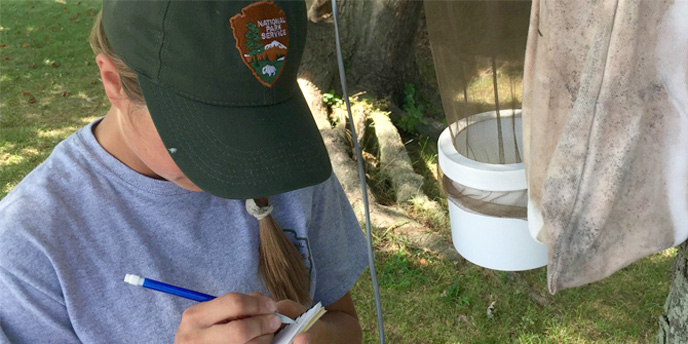 News Release Date:
August 24, 2015
Contact: Michael Bilecki, 631-687-4760
Contact: Jordan Raphael, 631-687-4769
Patchogue, NY –Fire Island National Seashore announced today that West Nile Virus (WNV)-infected mosquitoes have been found on Fire Island. The mosquitoes were collected on August 14 from a trap set by the Seashore as part of its Mosquito Monitoring Program on federal land near Watch Hill. The Mosquito Monitoring Program is a collaborative effort between the Seashore and Suffolk County Department of Health Services, which announced the positive WNV result on August 21.
The Seashore continues its surveillance program to monitor the severity and extent of WNV in the Seashore. As per the Seashore's Mosquito Monitoring Program protocols, there will be increased surveillance at Watch Hill where WNV was detected.
If threats to human health are identified, actions to protect the public may include control methods such as larviciding, spraying, or area closures. The National Park Service works closely with the Centers for Disease Control and Prevention (CDC), the New York State Department of Environmental Conservation (DEC), Suffolk County Vector Control, Suffolk County Department of Health, and local Fire Island and Long Island municipalities to determine the best course of action to protect residents, visitors, and employees of the Seashore.
Residents, visitors, and staff are advised to avoid areas with high densities of mosquitoes.If contact with mosquitoes is unavoidable, it is advisable to wear protective clothing and use an effective insect repellent, such as one containing at least 30% DEET.People most at risk of becoming ill from WNV are those over 50 years of age or whose health is impaired.Such people are advised to stay away from areas with mosquitoes.
For general information on WNV, please contact your local health department.Information can also be obtained from the CDC, or New York State or Suffolk County WNV websites.If you have information or questions for the park, please contact our headquarters at (631) 687-4750.