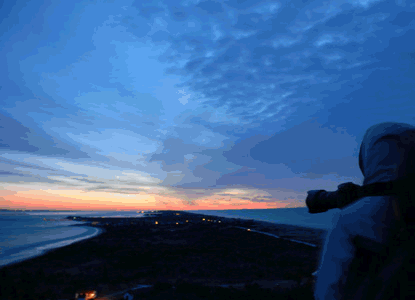 News Release Date:
March 3, 2011
Spring begins on March 20, but you can watch this transition throughout the month at Fire Island National Seashore. A variety of guided hikes and other special programs are offered in March 2011, providing an incentive to get outside and enjoy America's Great Outdoors. There are guided bird walks and tree identification tours at the William Floyd Estate, hikes into the Fire Island Wilderness, an early morning tower tour at the Fire Island Lighthouse, and special programs to help children learn about spring migrations and the night sky. Most are free programs, but reservations are required for a few activities.
Make your reservations early if you'd like to celebrate the start of spring from the top of the Fire Island Lighthouse! Although the vernal equinox (when day and night are equally 12 hours long) is closer to sunset, the Fire Island Lighthouse Preservation Society is getting a head start by hosting an Early Morning Tower Tour on Sunday, March 20 at 6:15 a.m. From a lofty vantage point, you can catch the rising sun (6:57 a.m.) and setting moon (7:00 a.m.) over Fire Island and the Great South Bay. A fee is charged for this program ($20/person) and reservations are required. (Call 631-661-4876 for more information.)
Young people ages 8 - 12 can learn more about the seasons and our solar system during a Junior Ranger Workshop: The Night Sky, offered at the Fire Island Lighthouse on Saturday, March 12, at 6:00 p.m. While this program is free, participation is limited to 30 and reservations are required (631-661-4876). The Junior Ranger Workshop: Spring Migration will be held at the Wilderness Visitor Center on Saturday, March 26 at noon. Call 631-281-3010 for more information about this program.
March marks the arrival of a number of migratory bird species. Naturalist MaryLaura Lamont is leading the "Old Mastic Winter Bird Walk" at the William Floyd Estate on Saturday, March 5 and Sunday, March 20, at 9 a.m. As you enjoy a leisurely 2- to 3-mile stroll around the grounds, you can observe a number of year-round avian species, and catch the first of the migratory birds.
Lamont is also conducting a natural history walk at the Fire Island Lighthouse, "Ocean to Bay: Both Sides of the Barrier Island," on Sunday, March 27, from 10 - noon. Another ranger-guided 3-hour Spring Awakenings Hike into the Fire Island Wilderness and on the Great South Beach will be offered on Saturday, March 19, from 9:00 to noon.
While on the beach, you may be able to catch a glimpse of the piping plovers' return to Long Island. These tiny shorebirds are one of the park's threatened and endangered (T&E) species. Plovers start to arrive by mid-March, and breeding and nesting take place from April through June. For the protection of T&E species, pets are not allowed on several stretches of Fire Island's beach from mid-March through Labor Day.
March is also Women's History Month, and the William Floyd Estate program, "In Honor of Trees," on Sunday, March 13 at 10:00 a.m., is as much a tribute to the women of the Floyd family as it is to the trees they planted over the past two centuries. On this outdoor tour, you can see:
Two trees planted in 1850 by Catherine Floyd, the granddaughter of William Floyd (one of New York's four signers of the Declaration of Independence.) Both trees are now state champion trees. The Linden is the biggest in the State, and the beech one of the top 10.
Four locust trees in front of the Old Mastic House (each has been replaced twice) were initially planted by Sarah Floyd Turner on her wedding day in July 1863. She named them in honor of her four Tracy cousins from upstate New York.
Rosalie Floyd, sister of Cornelia Floyd Nichols (the last of the Floyd family to live at the estate when it was donated to Fire Island National Seashore), planted a large formal flower garden on the west side of the house about 1900.
If your interest lies in maritime history and music, join the ShipMates' Sea Chanteys for an evening of acoustic ballads. Meet at the Wilderness Visitor Center on Friday, March 11, 7:00 - 9:00 p.m.
March can still be quite cool along the coast, so be sure to dress for the weather. Each of these programs provides an opportunity to get outdoors and enjoy your public lands at Fire Island National Seashore throughout the year. To learn more: