Amphibious Vehicle to Aid in Shoreline Research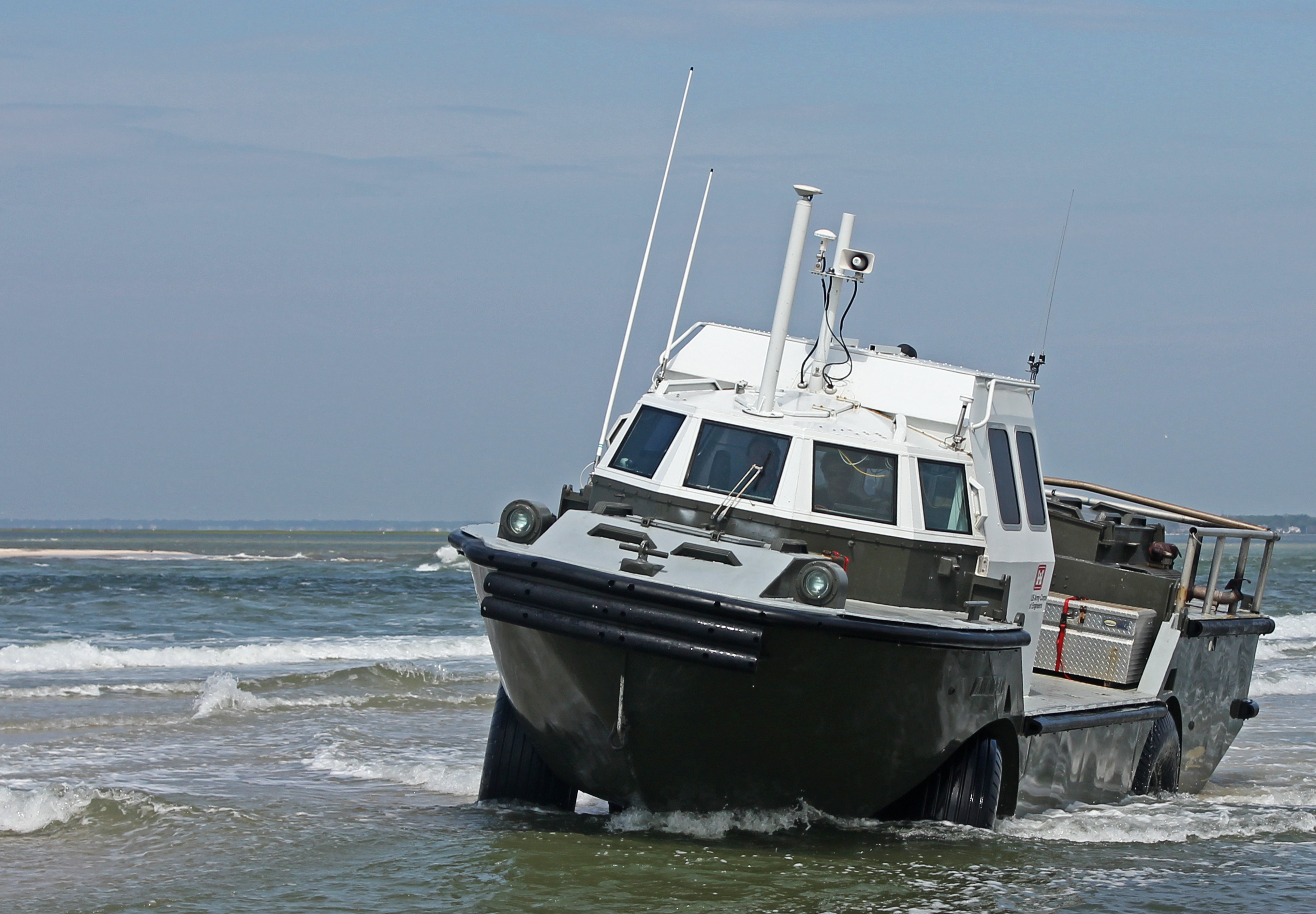 News Release Date:
June 10, 2014
Contact:
Michael Bilecki
Fire Island National Seashore, New York – On Tuesday, June 10, 2014, the United States Geological Survey (USGS) will begin surveys of the seafloor and adjacent coastline in areas of Fire Island, including Fire Island National Seashore, Smith Point County Park, Robert Moses State Park, and Fire Island communities.
Researchers will use a variety of tools to measure the topography of the beach and offshore features. A light detection and ranging eye-safe (T-LiDAR) system will be used to collect beach profile data; a Lighter Amphibious Resupply Cargo (LARC) vehicle will be used to collect sub-surface geology and single beam bathymetric data; jet skis will be used to collect bathymetric data; and a remotely operated Q-boat 1800P will be used in the vicinity of the breach at Old Inlet to collect velocity, depth, and water level measurements. This work is scheduled to be completed by June 19 unless surveys are delayed by inclement weather.
In June of 2013, the LARC amphibious vehicle was used to conduct surveys of the coastline in the vicinity of the breach at Old Inlet. The breach, a channel from ocean to bay was created in 2012 by Hurricane Sandy. The LARC amphibious vehicle will again be used to survey the breach as well as additional areas of Fire Island.
The Hurricane Sandy Disaster Relief Act of 2013, Public Law 113-2, appropriated funds to the USGS for research on the beaches and offshore areas of Fire Island. The National Park Service is permitting this project "as a means to gather the most up-to-date scientific information about shoreline dynamics on Fire Island. This information will be utilized in the development of the forthcoming Breach Management Plan and Environmental Impact Statement," said Chris Soller, Fire Island National Seashore Superintendent.
About the National Park Service. More than 20,000 National Park Service employees care for America's 401 national parks and work with communities across the nation to help preserve local history and create close-to-home recreational opportunities. Learn more at www.nps.gov.
For more information about Fire Island National Seashore please visit www.nps.gov/fiis.