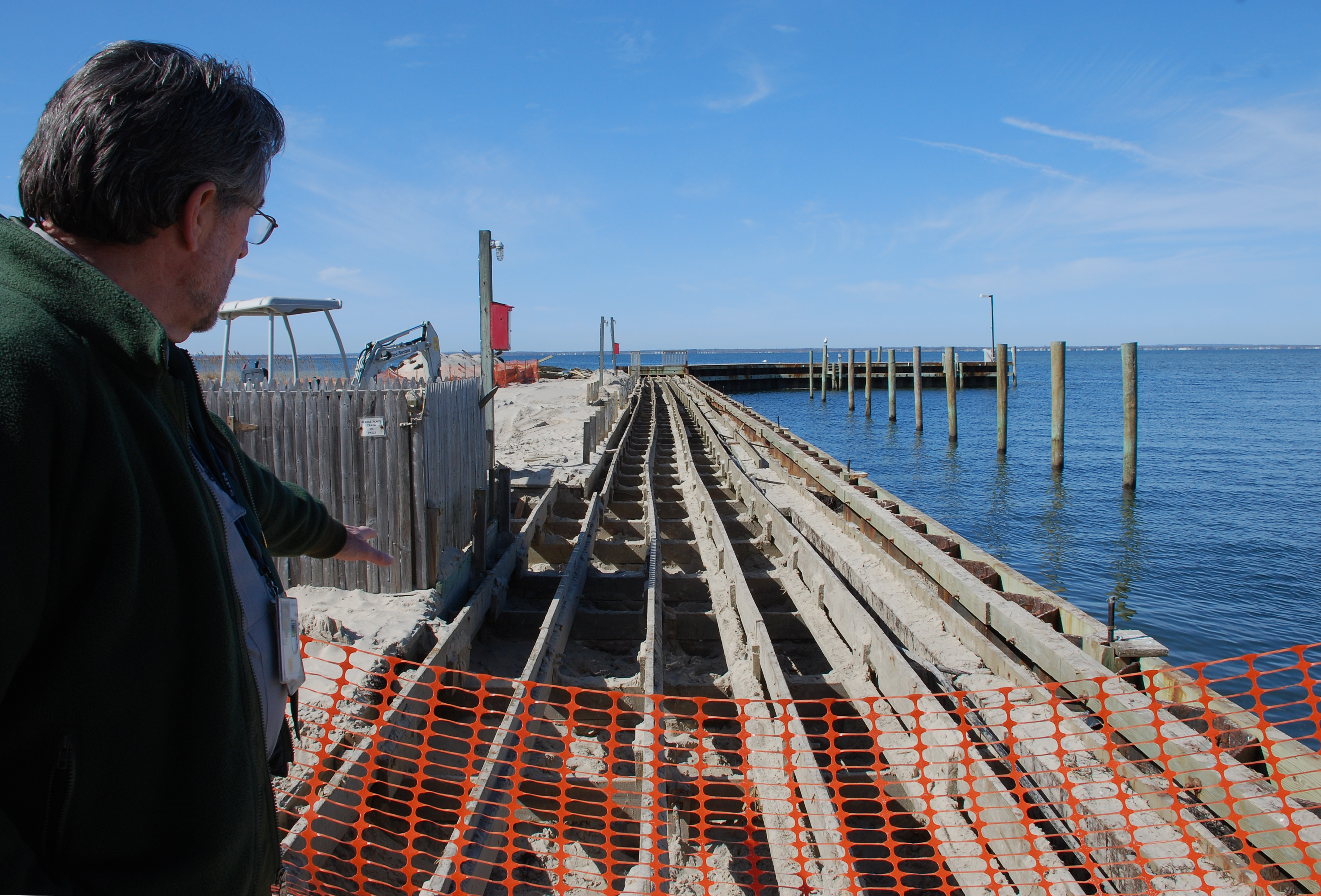 News Release Date:
April 21, 2015
Contact: James Dunphy, 631-687-4756
Contact: Elizabeth Rogers, 631-687-4766
Fire Island, New York –On March 23 Stout Construction Inc. was issued a Notice to Proceed by the Federal Highway Administration (FHWA) to begin work on a marina upgrade at Sailors Haven. The $1,087,000 project is funded and managed by the FHWA through their Emergency Relief for Federally Owned Lands and is slated for completion by July 20. The project will upgrade marina materials, making the structure more resilient to future storms, and will replace utilities impacted in 2012 by Hurricane Sandy.
"Nearly three years after Hurricane Sandy we continue to make progress and to build with an eye on sustainability and resiliency," said Fire Island National Seashore Facilities Manager James Dunphy. Plans call for the marina to be rebuilt with materials better equipped for the marine environment and for composite lumber to be installed over a strengthened substructure. New electric including marina service pedestals will also be installed.
Ferry service to Sailors Haven will continue to be provided by Sayville Ferry Service during construction and visitors may also access Sailors Haven by foot from nearby Fire Island communities. Minor interruptions to regularly scheduled ferries may occur to accommodate construction activities. Beginning mid-May, the National Park Service (NPS) will open the Sailors Haven Visitor Center on weekends and Fire Island Concessions will operate the snack bar and gift shop.
The project will require the closure of Sailors Haven marina slips to private boaters through July 20 and bayside shoreline access to the site will be closed. "Safety and resource protection are our highest priorities," stated Fire Island National Seashore Superintendent Chris Soller. "We will work to provide safe access for visitors arriving by ferry throughout the construction process and hope boaters will take the opportunity to explore and enjoy other parts of Fire Island National Seashore while the Sailors Haven marina is undergoing construction." Boaters are encouraged to visit Talisman/Barrett, an NPS site with limited services, approximately four miles east, or the Watch Hill marina, which is about seven miles east of Sailors Haven.
Sailors Haven is home to one of the best known areas of Fire Island National Seashore –the Sunken Forest. The site is located near the middle of the island, across the Great South Bay from Sayville, New York. From late spring through early fall, the NPS provides guided tours of the globally rare forest as well as other programming. For more information on Sailors Haven, Watch Hill, and Talisman/Barrett please visit www.nps.gov/fiis.