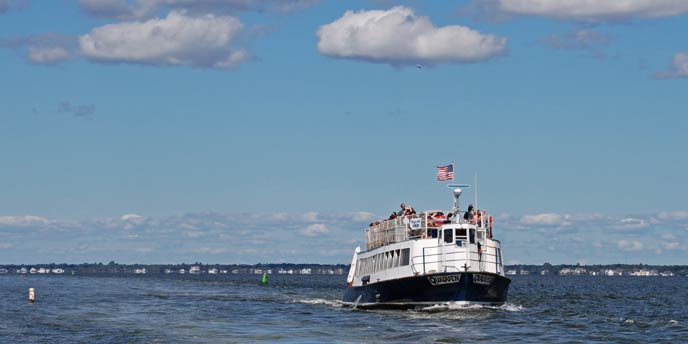 News Release Date:
July 31, 2015
Contact: Kaetlyn Jackson, 631-687-4770
Contact: Kathy Krause, 631-687-4772
Fire Island, New York – On Tuesday, August 25, ferry fare to Watch Hill and Sailors Haven and Fire Island Lighthouse Tower Tour rates will be offered at half-price to celebrate the 99th birthday of the National Park Service and the culmination of Fire Island National Seashore's year-long 50th anniversary celebration. The William Floyd Estate, a unit of Fire Island National Seashore located on Long Island, will also be open to the public. Visitors are encouraged to explore the Seashore and participate in self-guided and ranger- and volunteer- led programs.
On August 25, 1916 President Woodrow Wilson signed the National Park Service Organic Act that created the National Park Service and mandated the agency "to conserve the scenery and the natural and historic objects and wildlife therein, and to provide for the enjoyment of the same in such manner and by such means as will leave them unimpaired for the enjoyment of future generations." Today the National Park Service cares for more than 400 sites throughout the country, providing a variety of recreational and opportunities.
Founder's Day marks the 99th birthday of the National Park Service and the beginning of its Centennial celebration. The National Park Service Centennial will kick off a second century of stewardship of America's national parks and engaging communities through recreation, conservation, and historic preservation programs.
Tuesday, August 25, 2015
Fire Island Lighthouse
Reduced Lighthouse Tower Tours
Parking available for a fee at Robert Moses State Park, Field #5
Tower Tour Information: 631-661-4876.
Sailors Haven
Half-price ferry tickets: $6.50 R/T Adults, $3.75 R/T Children
Sayville Ferry Service
41 River Road, Sayville NY 
Sailors Haven Visitor Center Open 10 am to 5 pm
Ranger-guided Sunken Forest Tour 11:30 am –1 pm
631-597-6183
Watch Hill
Half price ferry tickets;Fare: $8.50 R/T Adults, $5.50 R/T Children
Davis Park Ferry Company
Patchogue-Watch Hill Ferry Terminal, 150 West Ave, Patchogue, NY
Watch Hill Visitor Center Open 9:30 am –5 pm
Ranger-guided Marine Seining in the Great South Bay 11:30 am –1 pm
631-597-7021
Wilderness Visitor Center
Open 10 am to 4 pm
Surf Fishing with Ranger Pat 4 pm –6 pm
631-281-3010
William Floyd Estate
Open 9 am to 5 pm
House tours offered every half-hour from 10 am - 4 pm
245 Park Drive, Mastic Beach, NY
631-399-2030
There is no entry fee for Fire Island National Seashore sites however Founders Day is a fee-free day at National Parks across the country. Additional fee-free days at national parks for 2015 include September 26, National Public Lands Day, and November 11, Veterans Day.