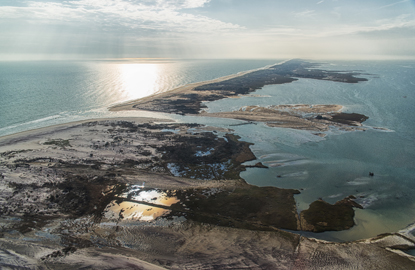 News Release Date:
February 7, 2013
Contact: Paula Valentine, 631-687-4759
Patchogue, NY - In the aftermath of Hurricane Sandy, the National Park Service (NPS) continues to work on many fronts in response to storm damage: removal of debris, repair of facilities, and restoration of services at Fire Island National Seashore. While the William Floyd Estate and the Wilderness Visitor Center reopened by mid-November, other Fire Island-based park facilities are still closed to the public. Damage to boardwalks and some infrastructure will affect access to parts of the park through the spring and possibly into the summer. "We hope to have most park facilities reopened by Memorial Day weekend," stated Fire Island National Seashore Superintendent Chris Soller, "however, there is no guarantee that everything will be up and running by summer." All along Fire Island's ocean shoreline, dunes were either scarped and eroded, or flattened entirely, with sand washing across the island to the bay in some locations. Some bayside shoreline was eroded, too, resulting in damage to some trails and other structures. "We continue to make repairs, but it's too early to confirm exact opening dates," said Soller, "We suspect that things won't quite be 'business as usual' this summer."   
At Watch Hill and Sailors Haven, usually closed to the public at this time of the year, the normal mid-May reopening could be delayed. Decking and bulkheading were undermined and some electric was compromised around each marina, and must be repaired before service is fully restored. Access to the beach could be delayed beyond mid-May, too, since all ocean-side dune cross-overs were destroyed by the storm, and will need to be replaced. 
The Fire Island Lighthouse, which is operated for the Seashore by the Fire Island Lighthouse Preservation Society, is usually open year-round and visited by more than 100,000 people every year. It has remained closed since Hurricane Sandy. While the iconic lighthouse weathered the storm with minimal damage, Sandy heavily impacted all access routes to this site, including the roads in Robert Moses State Park, where most Lighthouse visitors park. The Fire Island Lighthouse is expected to remain closed to the public until Robert Moses State Park Field 5 is reopened. Construction activities in the park could affect reopening even beyond that time. All Seashore-owned boardwalks connecting Field 5 and the Lighthouse were destroyed and removed. The bayside dock used by water taxis was destroyed, as were other boardwalks connecting the Lighthouse to the dock and the beach. The Burma Road, which passes in front of the lighthouse, was also damaged during the storm. "Until the boardwalks can be replaced and roadway repairs can be completed," said Soller, "all pedestrian access to the Fire Island Lighthouse may have to be routed down the beach between Field 5 and the Lighthouse, a distance of more than a half-mile." 
Dunes in front of the Fire Island Lighthouse were completely leveled by the storm.  The area known as Lighthouse Beach, which has long been used by nude sunbathers, will no longer be available as a clothing-optional area. "Due to a variety of reasons in addition to the loss of the dunes which shielded this area from view, state public nudity laws will be enforced at this location," stated Chief Ranger Lena Koschmann.    
Of the park's lesser-used facilities, Barrett Beach restrooms should reopen on schedule, but the primitive facilities at Old Inlet (a small dock, boardwalk to the beach, and vault toilet) were destroyed during the storm. Due to their location within the federally designated Otis Pike Fire Island High Dune Wilderness, these facilities will not be replaced.   
A breach that occurred at Old Inlet has been monitored by a multi-agency team to determine if it will close on its own, or should be closed manually. As of February 5, 2013, this team had not made a determination. 
Barrier islands, like Fire Island, are by nature very dynamic landforms, and storms and breaches are a part of the natural process which helps sustain coastal barrier islands. The park is offering a variety of interpretive programs that include walks to the breach and talks about the effects of the storm.   
# # #