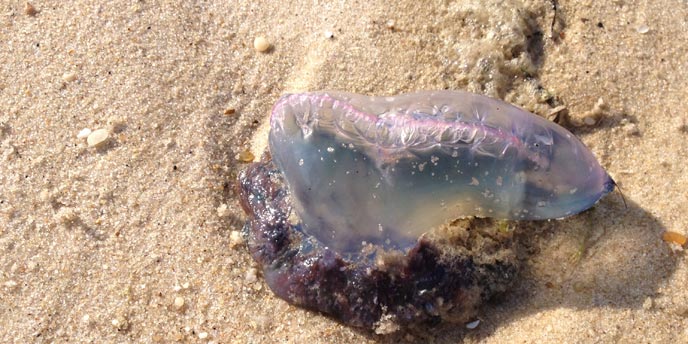 News Release Date:
July 9, 2015
Contact: Elizabeth Rogers, 631-687-4766
Contact: John Stewart, 631-687-4757
Fire Island, New York – Fire Island National Seashore (FINS) received reports this month of Portuguese Man O' War at various locations on Long Island's South Shore beaches. The National Park Service (NPS) is working to notify visitors of the possible presence of Portuguese Man O' War and will continue to monitor lifeguarded beaches for public safety threats.
On July 8 a visitor to Jones Beach, the barrier beach west of Fire Island, encountered and reported three Portuguese Man O' War. On July 1 there was a sighting at Fire Island Pines and, since that time,  NPS lifeguards have found and buried four of the animals near Sailors Haven.
"Beach goers should be vigilant," said Fire Island National Seashore Chief Law Enforcement Ranger John Stewart. "If visitors observe a Portuguese Man o' War on Fire Island, they should alert lifeguards, park rangers, or law enforcement officers," Stewart added.
Notices and safety warning flags will be posted at visitor centers and on NPS lifeguarded beaches on Fire Island. If a public safety risk is identified, NPS lifeguarded beaches will be closed to swimming. Beaches within the towns of Brookhaven and Islip on Fire Island are taking similar precautions.
The Portuguese Man O' War (Physalia physalis) is not a true jellyfish, but rather a floating hydrozoan colony consisting of four types of polyps. Each type of polyp forms a different part of the body and serves a specialized function. Suspended beneath the floating unit are long tentacles with stinging cells used to capture its small fish prey. These stinging cells can cause a painful sting to humans, even after the animal has died.
The Portuguese Man O' War is moved about by wind and currents. Though typically found in warm, tropical waters, this species can occur throughout the Atlantic, Pacific, and Indian Oceans. These marine creatures occasionally wash up on Fire Island beaches however stings are not a common occurrence.
Visitors should avoid contact with Portuguese Man O' War and should stay out of the water if one is observed at non-lifeguarded beaches. If stung, visitors should rinse the affected area with salt water and vinegar. If a severe reaction to a sting occurs, visitors should seek immediate medical attention.