Date:
May 22, 2009
Contact:
Paula Valentine
, 631-687-4759
Contact:
Michael Bilecki
, 631-687-4760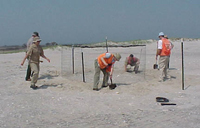 Piping plovers arrived on Fire Island by mid-March, and mating and nesting activity began soon thereafter. Each year Fire Island National Seashore initiates standard protection measures for these small birds and for other threatened and endangered species. This year, Fire Island residents and visitors may see more symbolic fencing and closed areas installed to protect suitable plover habitat.
As a condition under which the 2008-09 beach nourishment projects were authorized for Fire Island, portions of the newly expanded beach and many community walkways to the beach have been closed for the initial part of the season. After the first of July, the width of restricted beach area will be reduced where no piping plover breeding activity has occurred.
"We appreciate everyone's understanding of these conservation efforts that help meet mutual goals," stated Superintendent Chris Soller, "and appreciate beach users respect for and compliance with Endangered Species Act requirements."
During the plover nesting season, the National Park Service closes portions of its beaches to pets and kites, and further restricts vehicle access to the beach. From mid-March through Labor Day, pets and kites are not permitted at the following Fire Island National Seashore locations:


On the ocean beach from the east boundary of Robert Moses State Park to the Village of Kismet.


On the ocean beach between Oakleyville and Cherry Grove in the Sailors Haven area (which is part of the Sunken Forest Preserve).


From the western boundary of Smith Point County Park west to Old Long Cove, east of Watch Hill.


Additional stretches of beach may also be closed to pets, kites and vehicles as birds nest in other areas.
Pets and kites are not permitted at any time on NPS lifeguarded beaches.
In November of 2008, the National Park Service (NPS) issued five special use permits for beach protection projects on Fire Island. The Fire Island communities and Smith Point County Park lie within the boundaries of Fire Island National Seashore, thus requiring NPS approval for the beach protection projects, along with approvals from several other federal, state and local agencies. Based on the required biological opinion of U. S. Fish and Wildlife Service scientists, a number of conservation measures were stipulated in the special use permits.
The most noticeable requirement of each permit is the symbolic fencing—the string with fluorescent orange flagging and habitat warning signs—that was constructed in front of many Fire Island communities this spring. To ensure that suitable piping plover habitat created by the newly-expanded beach is protected as potential nesting areas for these threatened shorebirds, symbolic fencing is required to be maintained from the toe of the dune to approximately 25 feet north of the mean high water line (MHW). A 25-foot wide ORV and emergency response vehicle corridor is also required to be maintained above MHW. Where birds are not nesting, the symbolic fencing will be moved northward after July 1, in order to protect seabeach amaranth habitat.
Another major conservation measure required is pre-, during and post-project environmental monitoring to ensure that the beach protection projects have caused no disturbance to threatened or endangered species or their habitat and food sources. Qualified field biologists are hired to monitor the piping plovers. These biological monitors will be out on the beach—by foot and in a small 4x4 vehicle—conducting endangered species productivity and population surveys, sampling the invertebrates in the wrack found at the high tide line, and recommending and implementing changes in the location and configuration of symbolic fencing. In the project areas, surveys will be conducted throughout the summer.
If piping plover nests are found, a wire cage or predator exclosure is constructed around the nest after all eggs have been laid. Nests and chicks will be monitored daily. Exclosures and symbolic fencing will stay in place until the eggs have hatched and the chicks have fledged (about two months). The first eggs of the season were observed on April 27, 2009 at Sailors Haven. By Memorial Day weekend, at least eleven pairs of piping plovers had nested on Fire Island.
Kite-flying and the feeding of gulls or other wildlife are also prohibited in the closed areas. Pets—if they are otherwise not prohibited from the beach in the project areas—must be on a leash no longer than 6 feet.
One bonus of the symbolic fencing for the birds is the protection it affords all beach plants. With fewer feet trampling over the sand, you'll probably notice that beach grass and other plants start to colonize the sand at the base of the dunes. As it grows, the roots of American beach grass, or Ammophila breviligulata, trap sand and hold it in place, forming a new embryonic dune. Where the sand is not stabilized, it tends to blow away more readily.
Learn more about Fire Island National Seashore's Threatened and Endangered Species program.