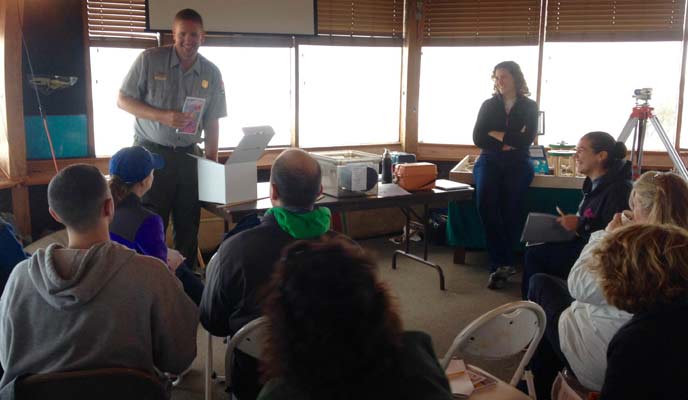 News Release Date:
October 22, 2015
Contact: Kathy Krause, 631-687-4772
Patchogue, NY - Educators of all disciplines are invited to a free Educator's Open House Sunday, October 25 to learn about Fire Island National Seashore's education materials and how the Seashore can be used as an informal classroom.
"Fire Island offers endless opportunities for hands-on learning," said Fire Island National Seashore Chief of Interpretation and Education Kathy Krause "and our field and classroom materials can help enhance the learning experience." Park rangers will be on hand at the Seashore's Wilderness Visitor Center Sunday, October 25 from noon to 4:00 pm to share information on the Fire Island Treasure Chest and Project EduBat traveling trunks, CORE-aligned lesson plans, field trip planning, and the Every Kid in a Park program.
Launched in September, the Every Kid in a Park program offers fourth graders and their families free access to all federally managed lands and waters. The Seashore and its partner, the Fire Island Lighthouse Preservation Society, offer curriculum aligned programming on maritime history and plant and animal adaptations for fourth grade students.
National parks are America's largest classrooms and offer a rich diversity of education materials for all grade levels. More than 400 national parks, including Fire Island National Seashore, provide teacher resources online at www.nps.gov/teachers including classroom materials like lesson plans and science labs, traveling trunks, and information on field trips, distance learning, and professional development. 
More information on Fire Island National Seashore's teacher resources is available online at www.nps.gov/FIIS.