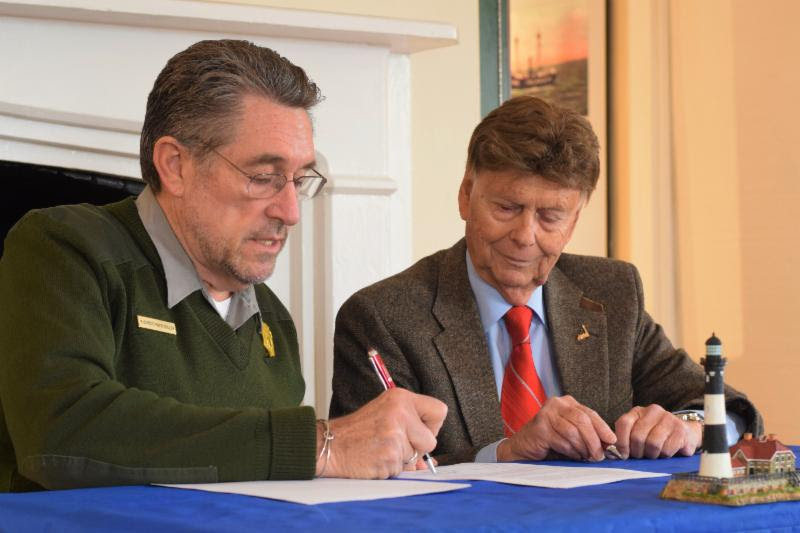 News Release Date:
February 10, 2017 On February 3, Fire Island National Seashore Superintendent Chris Soller and 
Fire Island Lighthouse Preservation Society
 President Bob LaRosa signed a new five-year partnership agreement. The agreement renews the Society's commitment to work collaboratively with the National Park Service to provide public programming and assist with preservation efforts at the lighthouse.
"For more than 30 years, the Fire Island Lighthouse Preservation Society has helped to ensure the Fire Island Lighthouse remains a premier tourist destination," said Soller. "The Fire Island Lighthouse is a special place to experience Fire Island and explore maritime history."
Executive Director of the Society Dave Greise is, "looking forward to working with the National Park Service and the Society Board, staff, and volunteers to keep the light shining." Throughout the year the Society welcomes thousands of people from around the globe. Last year more than 165,000 visitors discovered Fire Island through tower tours, exhibits, special programs, and nature walks.
The Fire Island Lighthouse Preservation Society was formed in 1982 to help the National Park Service preserve and interpret the Fire Island Lighthouse. The Society successfully raised over 1.3 million dollars for the restoration and preservation of the lighthouse, which was subsequently added to the National Register of Historic Places. Since then, the lighthouse and Keeper's Quarters museum have been maintained and operated by the Society. The dedicated staff and over 150 volunteers develop exhibits, offer 
public programs and events year-round
, and provide curriculum-based education programs for more than 7,000 school children each year.