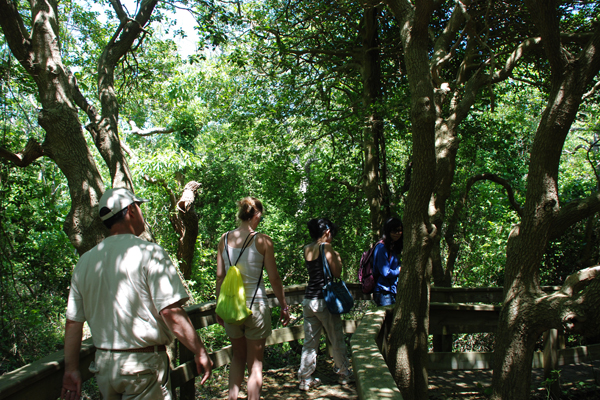 News Release Date:
June 7, 2012
Saturday, June 9, 2012 is the 5th Annual National Get Outdoors Day, established to encourage healthy, active outdoor fun at sites around the country. At Fire Island National Seashore, you can celebrate by taking a ferry ride to Watch Hill or Sailors Haven, or drive to the Wilderness Visitor Center, William Floyd Estate, or the Fire Island Lighthouse. Take a stroll on your own along miles of open beach, or join a park ranger for a guided walk or tour.
Fire Island National Seashore is offering a special 3-mile hike for children (ages 8 and up) and their families. The National Get Outdoors Day Kids' Hike is part of the First Lady's "Let's Move Outside" program, too. Meet at the Fire Island Lighthouse, where a ranger will guide the group to the Village of Saltaire and back. Pack your lunch and drinking water, and dress for the weather. Participants must be able to walk through soft sand for most of the 3-mile, 3½-hour program. To make reservations, call 631-281-3010.
At Sailors Haven, 1-hour "Exploring the Sunken Forest" tours are offered at 11:00 a.m. on Saturday and Sunday. You can continue to hike the entire 1½-mile Sunken Forest boardwalk trail or stroll down the beach on your own. Take the 9:30 a.m. ferry from Sayville to catch this program on Fire Island.
At Watch Hill, 1-hour "Exploring the Salt Marsh" tours are also offered at 11:00 a.m. on Saturday and Sunday. Take the 10:00 a.m. ferry from Patchogue for this program.
For more information, see What's Happening This Week.
Special Programs This Month: June 2012
(While the National Park Service waives its entrance fees on National Get Outdoors Day, these fees are not collected at Fire Island National Seashore. Transportation, parking and interpretive tour fees charged by concessioners and others still apply on NPS Fee-Free Days.)