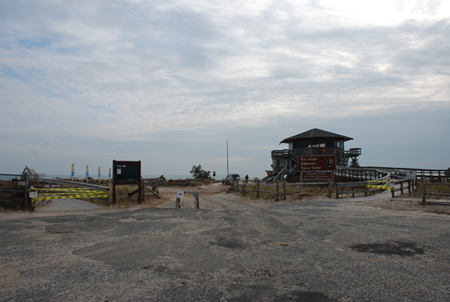 News Release Date:
November 16, 2012
Contact: Paula Valentine , 631-687-4759
While most of Fire Island National Seashore's island-based facilities are closed at this time of the year, those that are usually open year-round were closed due to the impacts of Hurricane Sandy. The Fire Island Lighthouse remains closed, but the Wilderness Visitor Center is now open on weekends, and there is limited pedestrian access to the beach at this site.
Hurricane Sandy, which made landfall on Monday, October 29, 2012, directly impacted Fire Island and Fire Island National Seashore. High winds and storm surge (flooding) affected both man-made structures and the natural landscape of Fire Island. These impacts have required Fire Island National Seashore to remain closed to the public until each park area can be made safe for visitors. On November 9, the William Floyd Estate reopened for its final weekend of operation for the 2012 visitor season. On November 10, the National Park Service (NPS) allowed pedestrian access on the Atlantic Ocean beach from the Fire Island Wilderness Center (adjacent to Smith Point County Park) to the breach at Old Inlet, 1½ miles to the west.Superintendent Christopher Soller expressed his thanks to everyone for their patience while NPS employees evaluate the storm's impacts and work to reopen the Seashore. "I also want to take this opportunity on behalf of the Seashore's staff to acknowledge the damage inflicted to Fire Island and Long Island communities and Seashore neighbors," stated Soller. "Please know that our thoughts are with the families and communities as they also work to recover from the storm."
On Tuesday, October 30, after Sandy had passed, park employees regrouped and began to assess damages. It was quickly realized that the Seashore would need assistance before reopening. Crews arrived from Great Smoky Mountains National Park and Big Cypress National Park and Preserve to assist in hazard tree removal and debris clean-up. Other NPS employees with special skills were also deployed to Fire Island from across the country to help. While work is underway, staff is also documenting the impacts to both natural and cultural park features. This work is part of a larger effort to help all the NPS units in New York and New Jersey that received damage from Sandy.
Debris, damaged boardwalks, and affected utilities as well as overwashes and the loss of dunes are affecting many areas of the Seashore.
Impacts by Area:

Lighthouse Area

: Many dunes were flattened and boardwalk displaced by the storm. Flooding occurred in the area of the Lighthouse terrace and West District Ranger Station. Utilities were impacted and are still being assessed while power is being restored.

Sailors Haven

:

Boardwalks to the beach and to the community of Cherry Grove are not useable. The Sunken Forest Trail was covered with debris that must be removed. Utilities were impacted and are still being assessed.

Talisman/Barrett Beach

:

The infrastructure is still being assessed, the stairway is damaged.

Watch Hill

:

Boardwalk and staircases are not useable.The docks were uplifted and will need repair. Utilities were impacted, but cannot be fully assessed until power is restored.

Otis Pike Fire Island High Dune Wilderness

: Damaged boardwalks near the Fire Island Wilderness Visitor Center are not useable. A breach occurred near Old Inlet,

1½ miles to the west

of the

Fire Island Wilderness Visitor Center.

The composting toilet and the boardwalk to the Old Inlet dock were entirely washed away during the breach, but the dock was left standing.

Only p

edestrian traffic is allowed along the beach shoreline.The breach is closed to all public access by boating, wading, swimming, etc.

Patchogue

: High water in the Patchogue River entered the Seashore's headquarters and maintenance buildings, which are being repaired. The Watch Hill Ferry Terminal remained dry.

William Floyd Estate

: Sustained tree damage, but enough work has been completed to allow for safe access during programs.
For the latest status of impacts and re-openings, please visit the following links:
To find out more information on the National Park Service Hurricane Sandy Response in NJ and NY, visit Facebook Page https://www.facebook.com/HurricaneResponseNPS.