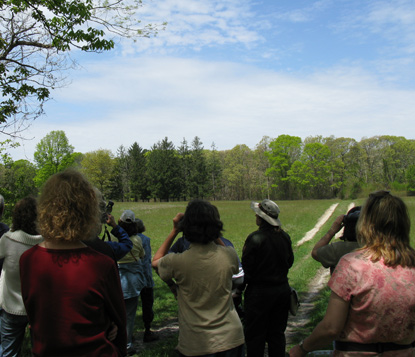 News Release Date:
April 29, 2011
Contact: Paula Valentine, 631-687-4759
Fire Island National Seashore's special programs for May 2011 reflect the progression of spring along the South Shore of Long Island. This month, most of the guided walks and activities focus on the observation of migratory bird life or horseshoe crabs.
While International Migratory Bird Day is celebrated on Saturday, May 14, the naturalist-guided Old Mastic Bird Walk is offered at the William Floyd Estate on Sunday, May 1 and May 22, from 9:00 a.m. - noon, in recognition of the annual return of many species of migratory birds. A shorter Cultural Landscape Walking Tour at the William Floyd Estate on Sunday, May 15,at 10:00 a.m., will also include an opportunity to watch for birds and other spring wildlife. Each of these programs is free. Call the Estate at 631-399-2030 for more information.
Programs at the Wilderness Visitor Center during May feature the intriguing, prehistoric-looking horseshoe crab, as it commences its annual mating ritual on the beach. An evening program for all ages, the Living Fossils: Horseshoe Crab observation program will be held at the Wilderness Visitor Center on Saturday, May 14, 7:00 - 9:00 p.m. Additional horseshoe crab programs specifically-geared for children are offered on May 21 and 22. (Call 631-281-3010.)
At the Fire Island Lighthouse, the special program of the month is a Lighthouse Keepers Behind the Scenes Tour, on Saturday, May 14, at 9:00 a.m. A fee is charged for this tour and reservations are required. (Call 631-661-4876.)
The Patchogue-Watch Hill Ferry Terminal opens in mid-May with a special "Essence of Fire Island" Nature and Wildlife Photography Exhibition opening reception on Sunday, May 15, from 1:00 - 3:00 p.m.
For a complete list of programs and more information:
May 2011 Special Programs