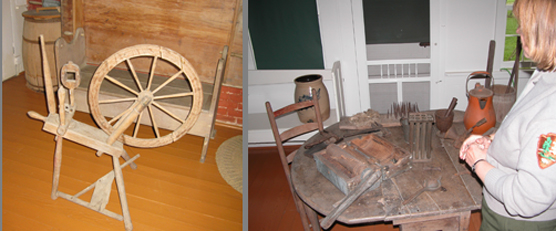 News Release Date:
August 18, 2011
Fire Island National Seashore's William Floyd Estate is offering special historic demonstrations this summer to help visitors learn more about daily life during earlier times on Long Island. Jamie Reason returns to the Estate on two Saturdays, August 20 and September 3, at 11:00 a.m. to demonstrate the art of carving shorebirds and ducks by hand. As he shares his skills, he'll also share stories about the history of waterfowl hunting in the local bays and the rich traditions of local decoy carvers.
On Saturday, September 10, from 11:00 a.m. - 3:00 p.m., expert spinner Lisa Grossman demonstrates the craft of spinning flax. She uses antique wheels and will explain what flax is, what this plant was was used for, and what it is used for today. She will also show the differences between flax spinning and wool spinning.
During the lifetime of William Floyd, one of New York's four signers of the Declaration of Independence, one major crop on his Colonial plantation was flax. Used for a variety of purposes by the family and as a cash crop, flax was an important commodity in the 1700s. Records from the collection at the William Floyd Estate indicate that flax seed was sold by the Floyds as late as 1828.
Join these free programs on the front porch of the Old Mastic House to learn more. The William Floyd Estate is located at 245 Park Drive in Mastic Beach, NY, and is open Friday - Sunday, 9:00 a.m. - 5:00 p.m., through November 13, 2011. For more information, call 631-399-2030.