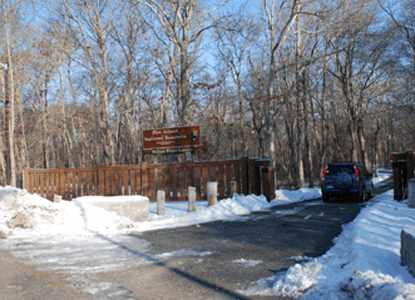 News Release Date:
February 17, 2011
Contact: Paula Valentine, Public Affairs, 631-687-4759
Fire Island National Seashore is helping nature lovers get outdoors and get engaged in the 14th Annual Great Backyard Bird Count, a citizen science project coordinated by the Cornell Laboratory of Ornithology and Audubon and conducted from February 18-21, 2011.
On Saturday, February 19, park naturalist MaryLaura Lamont will lead a 3-hour, 3-mile guided bird identification walk at the William Floyd Estate. If you'd like to join the program, dress for the weather, wear sturdy boots, bring your binoculars and meet at 9:00 a.m. at the main entrance of the Estate, located at 245 Park Drive in Mastic Beach, New York.
This guided hike to observe, identify and record avian species is a great excuse to get out and explore a 613-acre property that was the home of one of New York's four signers of the Declaration of Independence, William Floyd.
The William Floyd Estate, now managed by the National Park Service, includes a variety of habitats, from fields and woods, to streams, wetlands and salt marsh, and remnants of cultural plantings left by generations of Floyd family members. As you explore the expansive historic grounds, you'll find excellent habitat for birdlife.
"By mid- to late February, some of the earliest migrant birds start to show up," stated Lamont, who has worked at the Estate for many years. "I always like to look for the red-winged blackbirds and grackles. It's a sure sign of spring slowly returning. If the ice is finally melted in the creeks, the beautiful waterfowl come back in from the open areas of the bay."
Last year Lamont reported that the group saw the common goldeneye and hooded mergansers during this hike. "Two very nice looking species of ducks," according to Lamont.
Lamont also conducts an annual Christmas bird count at the William Floyd Estate. One of the highlights from the Christmas count in 2010 was a red-shouldered hawk. "It was a first for the count here," said Lamont, "and an uncommon bird to begin with." She also had 3 brown creepers, 1 red-breasted nuthatch and 7 golden-crowned kinglets, all together in one area! "The kinglets were all feeding on the ground, a sign of cold and hard times! Let's hope they've survived this devastating winter by finding enough food."
The Great Backyard Bird Walk is important to find out what birds are still around. How are their numbers as compared to December's Christmas Count? How many survived, if they are still in the area. The data gathered from this exercise will help provide statistics on bird populations from around North America. You can learn more about the program at www.BirdCount.org.
For more information or directions, contact the William Floyd Estate at 631-399-2030.
Learn more: 
Other hikes and special activities at Fire Island National Seashore