News Release
Fire Island Wilderness Breach Management Plan Approved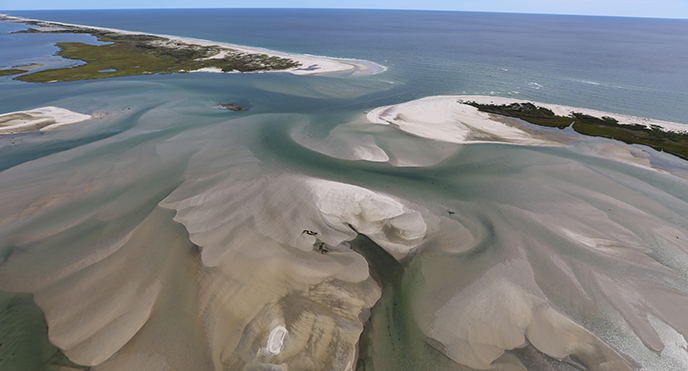 News Release Date:
July 26, 2018
Contact: Kaetlyn Jackson, 631-687-4770
Contact: Elizabeth Rogers
Patchogue, NY - On July 23, the National Park Service (NPS) Northeast Regional Director Gay Vietzke approved the Fire Island National Seashore Wilderness Breach Management Plan through a signed Record of Decision.. The NPS will continue to monitor the breach and allow for the evolution, growth, and/or closure of the breach to be determined by natural barrier island processes.
The approved management strategy calls for human intervention only "to prevent loss of life, flooding, and other severe economic and physical damage to the Great South Bay and surrounding areas." The strategy requires continued monitoring of the natural ocean-to-bay channel, an effort that has been underway since it formed during Hurricane Sandy in 2012.
The NPS will continue to monitor water levels, the shoreline position of the breach, and the cross section of the breach. The information collected will alert the NPS to potential shifts in breach evolution that could elevate the risk of economic or physical damage to nearby communities. Should such shifts occur, the NPS would increase monitoring efforts to inform a decision about whether or not to mechanically close the breach.
Preparation of the Wilderness Breach Plan/Environmental Impact Statement (EIS) began with an initial public scoping period in 2015. In accordance with the National Environmental Policy Act, the NPS prepared a draft plan to provide a thorough evaluation to determine the potential benefits and consequences of management strategies prior to making a decision on how to manage the wilderness breach.
A 45-day public review and comment period for the draft plan began in October, 2016 and a public meeting to discuss the plan was held on November 7, 2016. The more than 800 pieces of correspondence received during this time were addressed in the Final Wilderness Breach Plan/EIS, which was released for a 30-day no action period on December 19, 2017. Planning documents, including the Draft and Final Breach Management Plans/EISs are available online at the NPS Planning, Environment and Public Comment (PEPC) website.
Last updated: July 26, 2018