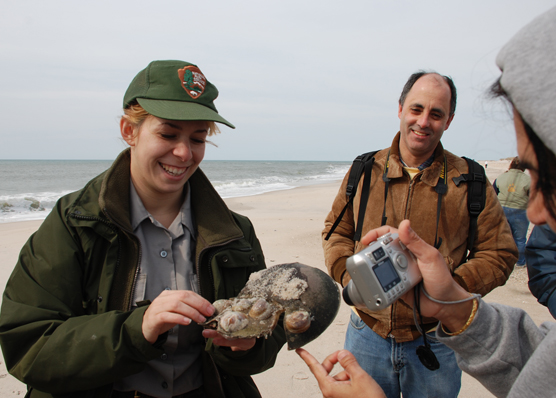 News Release Date:
November 8, 2011
Contact: Kathy Krause, 631-687-4772
Contact: Wilderness Visitor Center, 631-281-3010
National Park Service sites around the country offer an opportunity for reflection, contemplation and inspiration, which many people express through their personal works of art, including photography. Ranger-guided programs and tours help people discover more about the special resources of each park. You can learn about both photography and nature this month at Fire Island National Seashore's Wilderness Visitor Center.
On Sunday, November 13, from 1:00 - 3:00 p.m., Fire Island National Seashore is offering a Fire Island Photography Workshop to help novice photographers improve their techniques, and help experienced photographers learn more about the Seashore and its resources.
This program includes an indoor session to learn a few tips and techniques for photographing the wildlife, plants, natural landscapes, structures and people that define the character of Fire Island. Diane Abell, a park planner and professional photographer, will share her passion for this art form that has honed her skills of observation. "Since I have devoted so much of my personal time to the pursuit of birds and other wildlife from behind the lens," stated Abell, "I have gained a greater appreciation for the details of the world around us."
Bring your own camera to discover how its settings can affect the outcome of your work. Weather permitting, Abell will lead an outdoor excursion to practice nature and wildlife photography skills. Abell's work has been displayed in the park's art and photography shows at the Fire Island Lighthouse and Patchogue-Watch Hill Ferry Terminal, as well as other Long Island venues. Her philosophy: "Think about our environment as you capture it on camera. Your appreciation of nature and your skill at capturing the beauty of nature can be used to develop a conservation ethic for yourself and for those who view your photographs."
Several National Park Service offices and partners conduct annual photo contests. The National Park Foundation's 2011 "Share the Experience" Photo Contest is still accepting entries through December 31, 2011. For more information, see sharetheexperience.org.
Two park partners at Fire Island National Seashore offer an annual art or photography show.
Entries for the 11th annual Fire Island Lighthouse Art Show fundraiser will be accepted through May 16, for the show and sale which will run from June 22 to July 15, 2012.
Details for the Friends of Fire Island National Seashore (FFINS) 3rd "Essence of Fire Island" art or photography exhibit will soon be announced.
Learn more about Fire Island National Seashore's Annual Art Shows and Photography Contests.
Additional ranger-guided programs and hikes are offered this month at the Fire Island Wilderness Visitor Center.
On Sunday, November 20, from 10:00 a.m. - noon, Exploring Fire Island Wilderness includes a brief indoor presentation followed by a short ranger-guided ramble through New York State's only federally-designated wilderness area.
On Friday, November 25, from 9:00 a.m. - noon, the After-Thanksgiving Wilderness Hike provides an opportunity to join a 3-mile round-trip ranger-guided hike on the beach and through the Fire Island Wilderness. Dress for the weather and wear comfortable hiking shoes!
Learn more about Fire Island Wilderness.
Print a copy of Fire Island National Seashore's Special Programs for November 2011 or check the on-line Calendar of Events.