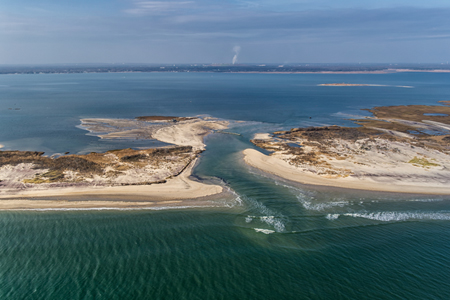 News Release Date:
November 20, 2012
Contact: Paula Valentine, 631-687-4759
Contact: Chris Soller, 631-687-4752
Patchogue, New York - The force of wind and storm surge caused by Hurricane Sandy, October 29, 2012, caused two breaches within the boundaries of Fire Island National Seashore. The breaches on Fire Island occurred: (1) within Smith Point County Park; and (2) within the vicinity of Old Inlet in the Federal Wilderness Area. Within 48 hours of the storm the Breach Contingency Plan (BCP), put in place in 1997 to address any breaches that impact coastal Long Island from Fire Island Inlet east to Montauk Point, was implemented by a multi-agency group including the National Park Service (NPS), U.S. Army Corps of Engineers (USACE), and New York State Department of Environmental Conservation. "The National Park Service is taking the breach seriously. Our goal is to monitor the breach closely and ensure that the long-term protection of the Long Island's south shore is taken into account," says Fire Island Superintendent Chris Soller. 
The U.S. Geological Survey (USGS), NPS, USACE, and other coastal experts have been regularly monitoring the wilderness breach conditions, water levels, and water quality in Great South Bay. The most recent data indicates the wilderness breach is approximately 230 feet in width at its widest point. The NPS and USGS will conduct a second deployment of instrumentation today to measure tidal exchange through the wilderness breach and breach morphology. 
The wilderness breach appears to be filling in through natural processes, the inlet remains stable, and water levels have returned to pre-Sandy levels. Experts from NY Sea Grant and Stony Brook University continue to monitor water levels in Great South Bay to ensure the levels remain within range and to update partner agencies so decisions can be made based on the best data available.   
The BCP calls for monitoring of the wilderness breach to determine if it will close on its own. Allowing breaches to fill naturally has substantial benefits to barrier islands such as Fire Island. These include improved water quality in the bay, sand movement into the bay that facilitates salt marsh development, widening the barrier island, increasing resiliency for future storms, and providing spawning grounds and habitat for marine species. The National Park Service is committed to closing the breach if it is determined that the wilderness breach will not close naturally and it is also determined that water levels have increased in Great South Bay along Long Island's south shore in the proximity of the breach. Any changes to the breach that contribute to water levels in Great South Bay exceeding pre-Sandy conditions would be addressed immediately.  
The breach at Smith Point County Park has filled in partially, and the USACE, now lead agency on the closure of the breach in the county park, will reinforce the breach with fill up to 9 feet.
For the latest status of impacts and re-openings, please visit the following links: