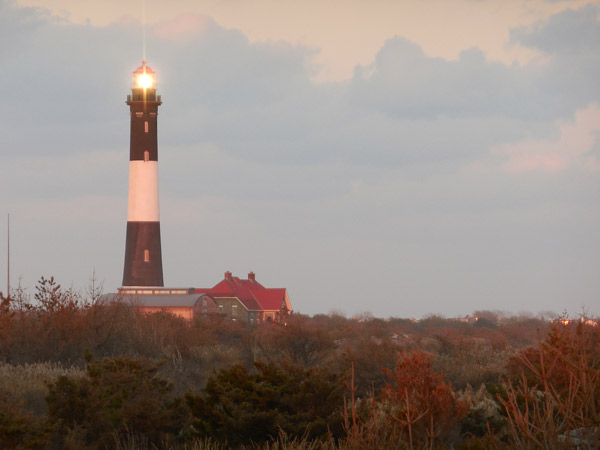 News Release Date:
October 31, 2013
Happy Birthday, Fire Island Lighthouse! On Saturday, November 2, 2013, from 1:00 - 4:00 p.m., the Fire Island Lighthouse Preservation Society and Fire Island National Seashore will celebrate the 155th anniversary of the Fire Island Light, which was first illuminated on November 1, 1858. There will be live music and crafts, facepainting and magic for the kids. Two former Lighthouse families will be on site to share their stories and memorabilia.
The Mahler family, who were the last of the resident U. S. Coast Guard (USCG) lightkeepers (1949-54), will be a part of the celebration. Special presenters also include members of the Norris family, who moved into the Lighthouse keepers quarters in 1976, when Rockwell ("Rocky") Norris began his career at Fire Island National Seashore shortly after the Fire Island Lighthouse was transferred from the USCG to the National Park Service. Rocky's young son Robert served as a model for the main character in Robert's Tall Friend: A Story of the Fire Island Lighthouse, a tale inspired by local efforts to save this crumbling iconic structure in the late 1970s. The children's book, published by Vivian Farrell in 1988 and selected in 2002 as an official book of Suffolk County and the Town of Babylon, New York, is still sold at the Lighthouse book store and gift shop.
Tower tours are available throughout the day at the regular fee ($7/adult, $4/child). Admission to the Keepers Quarters museum, Fresnel Lens Building and Boat House, and participation in all other activities is free. Parking is available at Robert Moses State Park, Field 5 (fee charged).
For more information about this program, contact the Fire Island Lighthouse Preservation Society at 631-661-4876.
Fire Island National Seashore offers a wide variety of guided walks and special programs throughout the year. Special programs this month will be held at the William Floyd Estate, Wilderness Visitor Center, and at the Fire Island Lighthouse. For more information:
November 2013 Special Programs
See "What's Happening This Week"