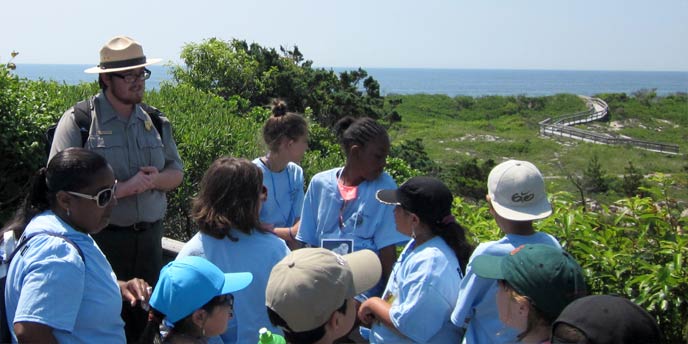 News Release Date:
September 10, 2015
Contact: Kathy Krause, 631-687-4772
Contact: Elizabeth Rogers, 631-687-4766
Patchogue, New York – Fire Island National Seashore is proud to help launch the Every Kid in a Park program as part of President Obama's commitment to protect our nation's unique outdoor spaces and ensure that every American has the opportunity to visit and enjoy them.
"This is a special invitation to fourth graders and their families," stated Fire Island National Seashore Superintendent Chris Soller, "to explore and enjoy our national treasures." To receive their free pass for national parks, fourth grade students can visit www.everykidinapark.gov and play a game to access their special Every Kid in a Park pass. Fourth graders and their families can use the pass for free access to all federally managed lands and waters –including national parks, forests and wildlife refuges.
In addition to providing every fourth grader in America a free entry pass for national parks and federal public lands and waters, fourth grade educators, youth group leaders and their students across the country will also participate in the program through field trips and other learning experiences. "Fire Island's dynamic shoreline, diversity of plants and animals, and rich history offer endless opportunities for discovery," said Soller. Throughout the school year the Seashore and partner, the Fire Island Lighthouse Preservation Society, expect to welcome 7,000 fourth graders.
The Seashore has special programs and events planned in support of the Every Kid in a Park initiative. This month, park rangers will visit the William Floyd Elementary School to offer programming to the entire fourth grade, and to distribute Every Kid in a Park passes. On October 25 an Educator's Open House will be offered at the Wilderness Visitor Center, located on Fire Island, to provide an opportunity for educators across academic disciplines to learn about the Every Kid in a Park program and about how Fire Island can be used as an informal classroom.
Special in-park art-focused programming for a fourth grade class from Washington Heights in New York City will also be offered in partnership with Weir Farm National Historic Site in Connecticut.
Leading up to the 100th birthday of the National Park Service in 2016 President Obama launched the Every Kid in a Park initiative earlier this year as a call to action to get all children to experience America's unparalleled outdoors. Today more than 80 percent of American families live in urban areas, and many lack easy access to safe outdoor spaces. At the same time, youth spend more hours than ever in front of screens instead of outside.
Every Kid in a Park is a crucial component of a multi-pronged approach to inspire the next generation to discover all that our nation's public lands and waters have to offer, including opportunities to be active, spend time with friends and family, and serve as living classrooms to build critical skills.