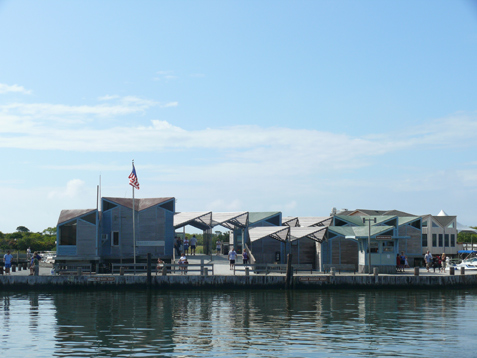 News Release Date:
December 23, 2014
Contact: James Dunphy, FINS, 631-687-4756
Contact: Michael Ortega, USACE, 917-970-6252
Fire Island, New York – A dredging project to maintain safe, public access to the marina and docking facilities at Sailors Haven and Watch Hill on Fire Island is scheduled to begin next week. 
In the aftermath of Hurricane Sandy and multiple storm events in 2012 sediment accumulated in the Sailors Haven and Watch Hill navigation channels and marinas. In 2013 an environmental assessment to dredge this material and restore navigation channels to a width of 100 feet and depth of six feet at mean low tide was completed. 
In 2014 the $2.9 million contract was awarded to H&L Contracting of Bay Shore, New York. The project is funded through Hurricane Sandy disaster relief aid.
"We are happy this work is underway," said Fire Island National Seashore Superintendent Chris Soller, "and to be able to continue to provide safe access to these facilities."
At Sailors Haven approximately 2,370 cubic yards of sediment from the dredged channel will be placed on the bay beach to the east and west of the marina. This material will help protect the Sunken Forest from accelerated rates of erosion. More than 49,000 cubic yards of sediment dredged from the Watch Hill channel will be deposited along the ocean front on the east end of Davis Park.
The project is slated for completion by January 15, 2015.
About the National Park Service More than 20,000 National Park Service employees care for America's 401 national parks and work with communities across the nation to help preserve local history and create close-to-home recreational opportunities. Learn more at www.nps.gov.
About Fire Island National Seashore Fire Island National Seashore encompasses 26 miles of ocean and bay shoreline, lush backdunes, maritime forests and residential communities on Fire Island, a barrier island situated south of Long Island, New York. Fire Island's dynamic coastal landscape is home to a diversity of plants and wildlife and offers a retreat from nearby metropolitan New York. For more information, please visit www.nps.gov/fiis.