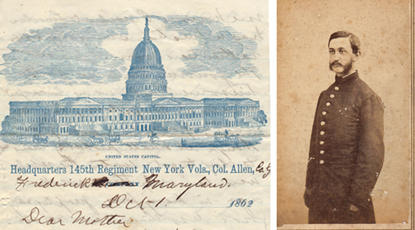 News Release Date:
June 28, 2013
Contact: MaryLaura Lamont, 631-399-2030
Contact: Paula Valentine, 631-687-4759
To commemorate the 150th anniversary of the Battle of Gettysburg, Fire Island National Seashore is offering special programs at the William Floyd Estate from July 4 to 7, 2013. "The Civil War and the Floyds" provides an opportunity to see artifacts and hear stories about the Floyd family's personal involvement in the Civil War.  
On July 4 and 6, from 10:00 a.m. – 4:00 p.m., local historian and park volunteer Jaime Reason will be on the front porch of the Old Mastic House to provide ongoing talks about the Civil War days of John Gelston Floyd, Jr. (May 10, 1841-November 27, 1903). A great-grandson of William Floyd, John fought with the 145th NY Volunteer Regiment at Chancellorsville and Gettysburg, and survived both bloodbaths. He enlisted as a 2nd lieutenant on September 11, 1862, and came out on January 6, 1864, as a captain. The family had carefully preserved his letters and other artifacts, and donated them to the National Park Service.
On Thursday, July 4, through Sunday, July 7, guided tours from the Old Mastic House to the Curatorial Storage Facility will be offered on the hour from 11:00 a.m. to 3:00 p.m. According to Park Interpreter MaryLaura Lamont, "We've assembled a display of war artifacts from the park's collection: officer morning reports, photographs, John G. Floyd's uniform and sword, letters home, newspapers, including Frank Leslie's Civil War Times, New York Times, and the New York Hearld, and much, much more." This program is limited to six people per tour due to space restrictions. For more information about Fire Island during the Civil War, including links to some of John's personal letters to his mother, see www.nps.gov/fiis/historyculture/fire-island-during-the-civil-war.htm.
Guided tours of the Old Mastic House are offered every half-hour from 10:00 a.m. to 4:00 p.m. on Fridays, Saturdays, Sundays, and holidays, from Memorial Day to Veterans Day. The William Floyd Estate is located at 245 Park Drive in Mastic Beach, NY 11951. Free parking. (Phone 631-399-2030.)