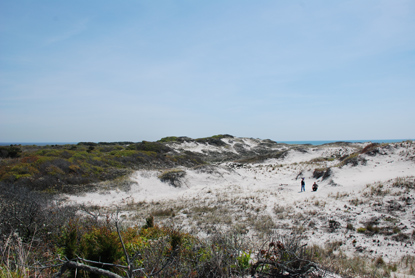 News Release Date:
October 11, 2011
Contact: Paula Valentine, Public Affairs, 631-687-4759
Contact: Kathy Krause, Chief of Interpretation, 631-687-4772
Contact: Wilderness Visitor Center, 631-281-3010
Fire Island, which is located along what is known as the Atlantic migratory flyway, is a spectacular place for birds and birdwatching, especially during the annual fall migration. Every year, migrant songbirds, hawks, and water birds touch down on this barrier island to rest and feed before continuing their journey south. It's now the peak of the fall migration - a perfect time to learn bird watching tips and techniques and to experience the migration first-hand.
Fire Island National Seashore is offering a free 2-hour course, "Birding for Beginners," on Saturday, October 15, from 10:00 a.m. to noon. Practice using binoculars, learn to use a field guide, and get pointers from an experienced "birder" about how to identify birds in the field by sight and sound. "There's no better time to hone your birdwatching skills than during the annual migration when the number of birds and variety of species are at their peak," stated Fire Island's Chief of Interpretation Kathy Krause. "Fire Island's diverse maritime habitats from beach to bay provide ample foraging and resting places for the weary travelers." Krause noted that Fire Island is also an important staging area before many migratory species begin their journey across long expanses of open water.
Dress for the weather, wear sturdy shoes for walking on sand, and bring binoculars if you have them. There is no charge for this activity. The program begins inside the Wilderness Visitor Center, followed by an outdoor birdwatching excursion on the beach and to the bay. Parking is available at Smith Point County Park.
For more information and directions, call 631-281-3010 or visit www.nps.gov/fiis.
Learn more about migratory species in National Park Service sites.