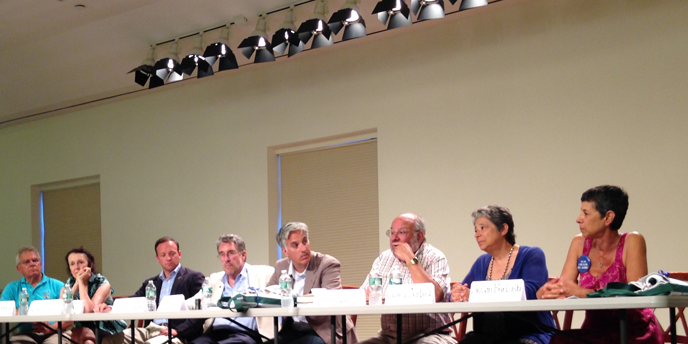 News Release Date:
July 29, 2015
Contact: Elizabeth Rogers, 631-687-4766
Patchogue, New York –Fire Island National Seashore continues its year-long 50th anniversary celebration with a special panel discussion and exhibition exploring the citizen's campaign to establish a national seashore in New York.
The panel and exhibit, presented in partnership with Fire Island residents, tell the story of "the passionate advocates who helped Fire Island become a national seashore" said Fire Island National Seashore Superintendent Chris Soller.
Panel participants include Fire Island National Seashore Superintendent Chris Soller, New York State Senator Tom Croci, Fire Island Association President Suzy Goldhirsch, Reporter Karl Grossman, Fire Island Lighthouse Preservation Society Administrator Dave Griese, and Susan and Cathy Barbash, daughters of Maurice Barbash, Chairman of the Citizen's Committee for a Fire Island National Seashore. The insightful discussion will reflect on the role of community members in the Seashore's last 50 years and will explore opportunities for cooperative stewardship in the next 50 years.
The 50th Anniversary Panel Discussion will be moderated by Enrico Nardone, Executive Director of the Seatuck Environmental Association, and will be held Monday, August 3 from 7:00 to 9:00 PM at the Bay Shore-Brightwaters Public Library.
A special 50th anniversary exhibit, "Protecting a Ribbon of Sand: The Creation of Fire Island National Seashore," curated by Susan and Cathy Barbash, opens August 8 at the Fire Island Lighthouse Fresnel Lens Building. Through correspondence, articles, memorabilia, and photographs, the exhibit explores the battle over the fate of Fire Island from the turn of the century until the Seashore's 1964 establishment. For Susan Barbash the exhibit helps "tell the story of the grassroots movement to preserve the unique character of Fire Island that we continue to enjoy to this day."