William Floyd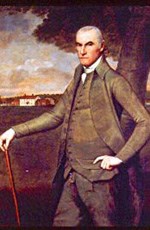 He Dared to Sign

In 1776 a 42 year-old William Floyd risked losing his family, farm, and life for signing the Declaration of Independence. William Floyd was the only man from New York's Suffolk County to sign the Declaration of Independence.
Of the four New Yorkers who signed the document, his is the only house still standing and open to the public.
Life on Long Island

Floyd inherited the Old Mastic House and 4,400 acres in 1755. He farmed a variety of crops including wheat, rye, oats, corn, and flax. The Floyds also raised livestock including sheep, cattle, and pigs. Floyd farmed his vast holdings with slaves, indentured servants, and free laborers.
Although he was primarily a farmer he did serve in local politics, and in the early 1770s received a colonel's commission in the Suffolk County Militia. In 1774 he was elected to the 1st and 2nd Continental Congress, where he served until the end of the Revolutionary War.

Floyd was married twice. He had 3 children by his first wife Hannah Jones who died in 1781 and 2 children with his second wife, Joanna Strong.

After the War he went back to managing his plantation but continued to dabble in politics. He served as State Senator and was many times a presidential elector. He is one of the few Floyd's not buried in the family cemetery. He died when he was 86 in upstate New York and is buried in the Town of Westernville, where he had moved in 1803.
Visit the William Floyd Estate

The William Floyd Estate, which was authorized as an addition to Fire Island National Seashore in 1965, is located on the mainland of Long Island. Two hundred and fifty years of history are preserved at the Estate.

Currently, the Old Mastic House is closed to the public for renovations. Visitors are welcome to explore the Estate grounds 9 AM - 4 PM from early May – late November.
The Declaration of Independence and its Signers


Last updated: August 3, 2023