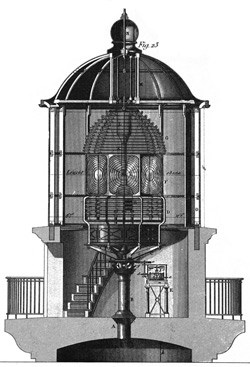 When the present Fire Island Light began operation on November 1, 1858, it was illuminated by a state-of-the-art first order Fresnel (pronounced fray-nel') lens, an intricate beehive-shaped mass of brass and glass prisms, rotating on a clockwork assembly. This lighting apparatus served as a beacon to mariners from the top of the Fire Island Lighthouse from 1858 to 1933.
See animation
"
How a Fresnel Lens Works
," from
www.pbs.org
.
After an absence of 78 years, this Fresnel lens returned to Fire Island on March 8, 2011. It was unveiled in its new home on July 22, 2011.