The Wreck of the Bessie White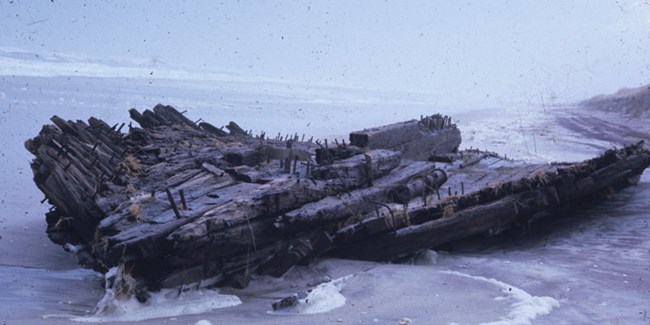 The Wreck of the Bessie White
The Bessie White was a Canadian coal schooner that went aground on Fire Island, about a mile west of Smith's Point. Conflicting historical records date the wreck to either 1919 or 1922.
On February 6 at approximately 4:30 a.m. heavy fog caused the Bessie White to run aground and the vessel quickly filled with water. The crew waited in the dark fog for day break when they launched two boats and escaped to shore. One boat overturned, injuring one crew member who was brought to shore and treated by the Coast Guard. All of the crew survived but the Bessie White and its cargo of coal was a complete loss.
In the following weeks the ship was salvaged by Foster Sills and Harry Pain of Patchogue. Much of the salvageable material, including the masts and rigging were taken before the wreck washed out to sea.
What brings the Bessie White into Fire Island lore is what is believed to be the presence of a large part of the ship's hull within the Otis Pike Fire Island High Dune Wilderness, near Long Cove. The weathered expanse of wood and nail were unearthed and became completely visible in 2012 due to Hurricane Sandy. As wind and waves shape the beach, the ship's skeleton is covered and uncovered, periodically unearthing large portions of the fascinating artifact.
While the remains are thought to be the Bessie White, it is difficult to say with any certainty that it is indeed part of the almost one hundred year old schooner.
Last updated: December 22, 2015