Inaugural Balcony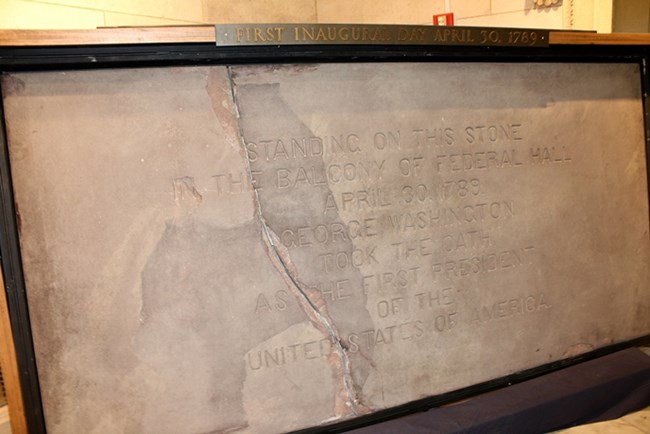 On April 30, 1789 George Washington took his oath of office as the first President of the United States at 26 Wall Street on the balcony of the original Federal Hall, the first Capitol of the newly independent country.
Dressed in an American-made dark brown suit with white silk stockings and silver shoe buckles, Washington arrived at Federal Hall the morning of his inauguration and was formally introduced to the House and Senate. After these formalities concluded, Washington moved to the second-floor balcony overlooking Wall Street where he was sworn in as president by Chancellor of New York Robert Livingston in view of the crowd of people gathered below.
When the original Federal Hall was demolished in 1812, a few remnants were saved. The large brownstone section of the balcony floor upon which George Washington stood was removed to the grounds of Bellevue Hospital, where it was exhibited for many years. In 1889, the stone was returned to its original site and displayed here at 26 Wall Street in the U. S. Subtreasury building (now Federal Hall National Memorial) for the commemoration of the centennial of Washington's inauguration. It was also covered with a thin skim of cement in order for the inscription to be applied.
The balcony piece has been moved within the building several times and cracked when it was being placed in the lower rotunda. This crack allows visitors to see the original stone beneath the cement skim coat.
Last updated: May 28, 2015