This Concludes Your Tour
of the Old Faithful Area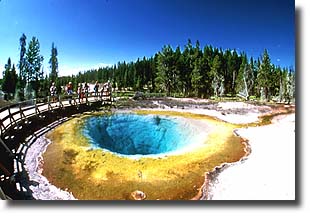 Morning Glory Pool
We hope you enjoyed your tour of the Old Faithful Area. Please re-visit our tour pages in the future as we plan to make major improvements in our tours including a more immersive experience including QTVR panoramas that will allow you to look 360 degrees around the scene. RealVideo clips will be included as well to bring the experience a little closer to actually being there.
To learn more about how geothermal features work, visit our Geothermal Features Page.
---
Technical information about this geyser basin is available through the following non-NPS source.
Yellowstone Geysers - courtesy of David Montieth & Contributors
---
If you are interested in learning more about specific geysers and hot springs in Yellowstone you may wish to buy the book The Geysers of Yellowstone, by: T. Scott Bryan.
Yellowstone Forever funded the Safety Exhibit Panel in the Old Faithful Geyser Basin. They are a non-profit organization whose mission is to fund projects and programs that protect, preserve and enhance Yellowstone National Park.
Old Faithful Area Tour
Previous Stop