Lobby > Exhibits > Why Geysers Erupt > Geyser Ingredients > Heat > How Hot is Old Faithful
How Hot is Old Faithful?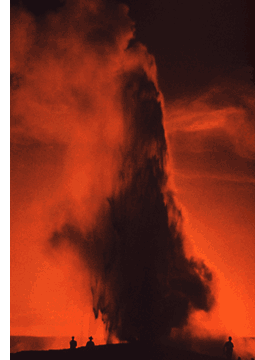 • Deep within the plumbing system of Old Faithful, water temperatures exceed 400°F (204°C).

• At only 45 feet (14 m) inside Old Faithful's throat, the water temperature is 244°F (117°C).

• Prior to an eruption, the water at the geyser's vent is 204°F (96°C)—several degrees hotter than the area's normal surface boiling point of 199°F (93°C).
Although Old Faithful is world famous, it is only one of more than 12,000 hydrothermal features in Yellowstone and represents only a tiny fraction of the area's thermal output.

Next Section: Norris Geyser Basin