FURNACE FLATS 2
October 2007
Excavated: September 12-19 and October 2-10, 2007
Image Taken: October 10, 2007
Backfilled: October 11, 2007

Like the structure shown in Furnace Flats 1, an arroyo cut right through the center of this room. This room was used between about A.D. 1070 and1130. It was occupied on at least three different occasions as evidenced by distinct floor levels, and by architectural features such as storage bins and hearths that appear to have been remodeled during reoccupation.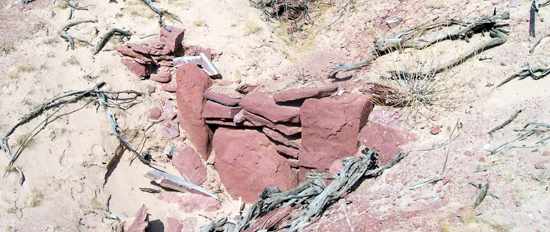 Erosion caused by this arroyo exposed part of a prehistoric wall. Efforts to stabilize the erosion with brush check dams were unsuccessful. When archaeologists excavated here, they unearthed the room above.
The walls of this room were approximately seven feet (2.1 m) high. The roof was removed after the second occupation, and the beams may have been reused elsewhere. After the second occupation, a smaller room was built in the southwest corner, with a new floor placed on top of several inches of sediment that had filled the room while it was unused. After a time, the occupants stopped using the smaller room and it filled with sediments. A large olla, or storage pot, was buried in the floor of the smaller room. Since the pot had a crack in it, it may have been buried and used for in-floor storage during the latest occupation.