Directions
Getting to El Camino Real de los Tejas National Historic Trail
El Camino Real de los Tejas was established to connect a series of Spanish missions and posts between Monclova, Mexico, and Los Adaes, the first capital of the province of Texas (in what is now northwestern Louisiana). The royal road was an approximately 1,000-mile long corridor of changing routes from Saltillo through Monclova and Guerrero, Coahuila, Mexico; San Antonio and Nacogdoches, Texas, and then east to the vicinity of Los Adaes in what is now Louisiana. It constituted the only primary overland route from the Río Grande to the Red River Valley in Louisiana during the Spanish Colonial Period.
Plane
You can reach the national historic trail by flying into a number of airports, including Laredo and San Antonio, Texas, and Alexandria, Louisiana.
Car
You can reach some trail sites by auto on all-weather roads. Many sites are on private land - please do not trespass and always ask landowner permission to visit a site.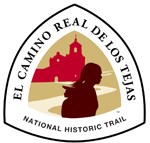 A
family of road signs
has been initiated across El Camino Real to help you find original routes, trail crossings, and local sites. Follow the signs exhibiting the distinctive El Camino Real de los Tejas National Historic Trail logo.


Last updated: February 5, 2019