Permits and Reservations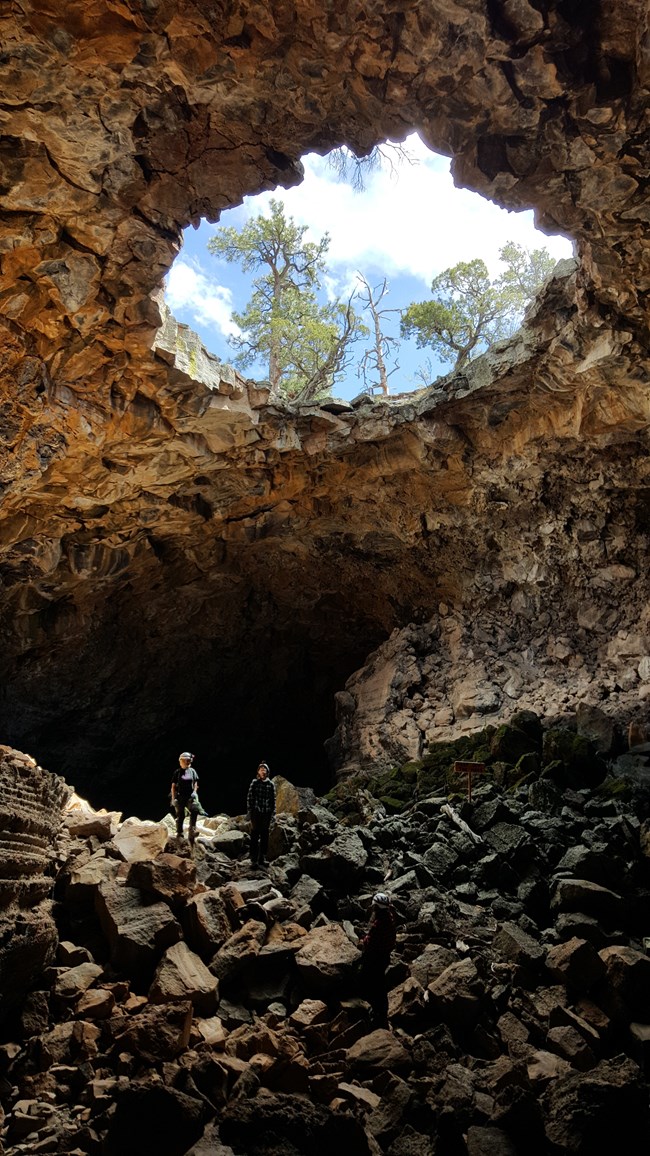 El Malpais National Monument has various permits that are required for certain activities within the park boundaries.
Caving Permits
Caving permits are not being issued at this time. All lava tube caves are closed until further notice for resource and human safety purposes.
Lava tube caves await your discovery at El Malpais National Monument. A FREE cave permit is required to visit all caves in El Malpais NM. Cave permits can be picked up at the El Malpais NM Visitor Center at Exit 85 on I-40 in Grants, NM. You can also get permits at the El Morro National Monument Visitor Center. Visit our caving page to learn more. A seperate research permit is required if you wish to conduct research in the caves of El Malpais National Monument.
Educational Caving Trips
All groups and students interested in caving at El Malpais National Monument need a caving permit. Groups are asked to notify the park at least 30 days in advance of their visit. Please call 505-876-2783 for more information.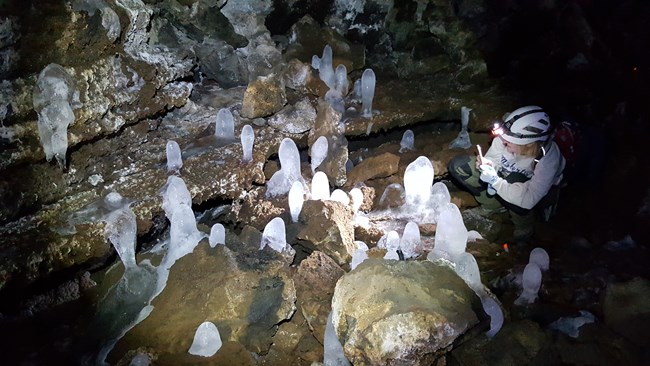 Filming
Changes to Commercial Filming Permits on Park Land
On January 22, 2021, the US District Court for the District of Columbia issued a decision in Price v. Barr determining the permit and fee requirements applying to commercial filming under 54 USC 100905, 43 CFR Part 5, and 36 CFR Part 5.5 are unconstitutional. The National Park Service has issued interim guidance as of February 22, 2021, to manage filming activities. Under the interim guidance, filming activities may require a permit if they pose a threat to park resources or the visitor experience. The National Park Service intends to update regulations addressing filming activities that are consistent with the outcome of Price v. Barr. Once effective, those regulations will replace and supersede the interim guidance.
As regulations regarding commercial filming permits are being reassessed, those interested in commercial filming activities on land managed by the National Park Service are encouraged to contact the park directly for more information about filming in the park and to discuss how to minimize potential impacts to visitors and sensitive park resources.
Do I need a permit to film?
Under the interim guidance, the National Park Service is not distinguishing between types of filming, such as commercial, non-commercial, or news gathering. Low-impact filming activities will not require a special use permit, but non-low-impact filming may require a permit to consider its potential impacts on park resources and visitor activities.
Low-Impact Filming
"Low-impact filming' is defined as outdoor filming activities in areas open to the public, except areas managed as wilderness, involving five people or less and equipment that will be carried at all times, except for small tripods used to hold cameras. Those participating in low-impact filming activities do not need a permit and are not required to contact the park in advance. If low-impact filmers have questions about areas where they want to film, they should contact the park directly.
All applicable laws and regulations governing activities and public use in parks still apply, including park hours and areas open and closed to the public. Videographers, filmers, producers, directors, news and other staff associated with filming are reminded that rules and regulations that apply to all park visitors still apply to filming activities even if no permit is needed for their activity. Check with the park staff for more information on closures, sensitive resources, and other safety tips.
Non-Low-Impact Filming
Filming activities that do not meet the description of low-impact filming requires at least ten days advance notice to the National Park Service by contacting the park directly in writing. The park's superintendent will determine whether the filming activity will require a special use permit for filming Based on the information provided, a permit may be required to:
maintain public health and safety;

protect environmental or scenic values;

protect natural or cultural resources;

allow for equitable allocation or use of facilities; or

avoid conflict among visitor use activities.
Some requests that may require permits: entering a sensitive resource area, filming in areas that require tickets to enter, or filming in visitor centers, campgrounds, or other visitor areas. The decision to require a permit rests with the park superintendent based on the threat to park resources, values or the visitor experience.
Contact the park directly if unsure whether or not a filming activity is considered low-impact or will require a permit.
Filming in Wilderness Areas
The National Park Service manages and protects more than 44 million acres of Congressionally-designated wilderness areas under the Wilderness Act of 1964. These areas have additional laws and policies to preserve their wilderness character for future generations. Filming activities in wilderness areas must follow all applicable laws and regulations that govern wilderness areas in the park, including prohibitions on structures, installations, motor vehicles, mechanical transport, motorized equipment, motorboats, or landing aircrafts.
Special use Permits for filming are required for all filming activities in wilderness areas, except casual filming by visitors, no matter the group size or equipment used.
Are filmers still required to pay fees to film in parks?
As of January 22, 2021, and under the interim guidance the National Park Service is not collecting application or location fees, or cost recovery for filming activities.
Still Photography
When is a permit needed?
Price v. Barr had no impact on how the National Park Service regulates still photography, so there are no changes in how the National Park Service regulates that activity. Still photographers require a permit only when:
the activity takes place at location(s) where or when members of the public are generally not allowed; or
the activity uses model(s), sets(s), or prop(s) that are not a part of the location's natural or cultural resources or administrative facilities; or
a park would incur additional administrative costs to monitor the activity.
How do I apply for a permit?
To apply for a still photography permit, use the Special Use Permit for Still Photography - long application for complex projects or the Special Use Permit for Still Photography - short application for simpler projects. Please allow one month for permit processing. Contact the park permit coordinator via email or by phone at 505-285-4641 ext. 218 with questions.
Special Use Permit
Individuals or groups who wish to use El Malpais National Monument for a special purpose or event require a Special Use Permit. A Special Use Permit must be applied for and approved by the Superintendent. Special Use Permits include, but are not limited to, weddings, large group picnics, sporting events, church services, public spectator attractions, entertainment, ceremonies, 1st Amendment activities (fee is waived), or anyone wishing to use a public address system. Permit applications require a $100 non-refundable processing fee and must be received by the park at least 1 month prior to proposed activity. Your submission of an application DOES NOT guarantee approval of a permit. Special use permit applications are available in both a long and a short version. If you have questions or are interested in these permits, please contact the Special Use Permits Coordinator by email or at 505-285-4641 ext. 218.
Research Permit
Anyone wishing to conduct research at El Malpais National Monument must first submit an application. Contact the Research Permit Coordinator at 505-285-4641 ext. 227or email us for more information..
Commercial Use Authorizations
Anyone (referring to individuals, corporations, and other entities) wishing to provide commercial services for El Malpais visitors in limited circumstances must apply for a Commercial Use Authorization (CUA) (PDF 299 kB) before conducting any type of commercial service. CUAs, although used to authorize commercial services to El Malpais visitors, are NOT concession contracts. They are intended to provide a simple means to authorize suitable commercial services to visitors in the limited circumstances of the legislation (Section 418 of the National Parks Omnibus Management Act of 1998, Public Law 105-391).

Commercial visitor services means accommodations, facilities, and services the NPS has determined to be necessary and/or appropriate for public use and enjoyment of a Park area provided to Park area visitors for a fee or charge by person. The fee or charge paid by the visitor may be direct or indirect as part of the provision of comprehensive visitor services. Please allow thirty business days for processing. If you have questions, you may contact the Commercial Use Authorization Coordinator at 505-285-4641 ext. 225.

Last updated: August 15, 2021