Special Exhibits
STATUE OF LIBERTY NATIONAL MONUMENT AND ELLIS ISLAND
EXHIBITION SCHEDULE
ELLIS ISLAND NATIONAL MUSEUM OF IMMIGRATION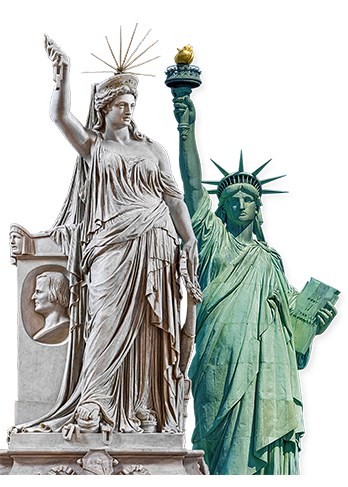 The Third Floor Changing Exhibit Gallery- 3 East -

Sisters in Liberty: From Florence, Italy to New York, New York

October 18th, 2019 - April 26, 2020
An exhibition presented by Opera DI Santa Croce, Florence, Italy


Two special "Sisters in Liberty" are the protagonists of this exhibition: the solemn "Statue of Liberty Enlightening the World" by Frédéric Bartholdi, which has welcomed those entering New York harbor since 1886, and the elegant "Liberty of Poetry" by Pio Fedi, inaugurated in 1883 as a monument to the Italian poet and patriot Giovanni Battista Niccolini at the Basilica of Santa Croce in Florence. While similar in stance and in detail, the connections between these "sisters" are more than visual, and it is hoped that this new partnership will honor their symbolic and cultural similarities. Still today the question remains: was Bartholdi inspired by Fedi's "Liberty"?

To open a dialogue with visitors, a video and a series of panels graphically reconstruct the history of the pursuit of self-determination in Italy and the United States. The exhibition culminates with a three-dimensional resin reproduction of Fedi's "Liberty of Poetry" that is almost ten feet tall and weighs more than 500 pounds. In the same room, an innovative "Listening Wall" will encourage visitors to ponder the trajectory of humanity's aspiration for liberty. The sculptural reproduction and the "Listening Wall" were created by interdisciplinary researchers at Kent State University who are creating new interactive tools to enhance public engagement with important issues of our time.

Visitors to the exhibition will be encouraged to explore the long-standing cultural ties between Italy and the United States through art, architecture, and the themes of liberty, poetry, and the human condition. The exhibition also highlights the global significance of the Basilica of Santa Croce and its many artistic treasures.

Learn more about our project and our collaboration at https://sistersinliberty.com/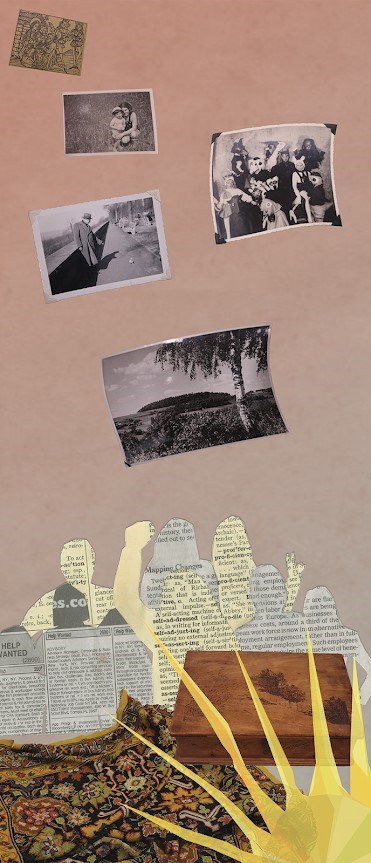 The First Floor Changing Exhibit Gallery- Railroad Ticket Office -
Looking Ahead: How the Voices of Hope Shape Our Understanding of the Country We All Share
April 20, 2019 – September 20, 2019
Academy of Design at the Morris County School of Technology in Denville, New Jersey.
This exhibition was designed by the juniors in the Academy of Design at the Morris County School of Technology (MCST) in Denville, New Jersey. We crafted our Looking Ahead exhibit around the stories of immigrants of the past and present in order to show the impact the United States has had on countless lives.
The panels share the story of cultural heritage, the promise and opportunities of America and the strength and resilience that represents the ability to leave one's home and start a new life. The coats represent the humanity of the immigrant experience. Seven figures, like the seven points of Lady Liberty's crown, are on a journey towards freedom from oppression, from strife and for the chance at a better life. The crown represents the liberty sought by all in the new country.
As a class, with the assistance of our fellow design academy classmates, and our talented friends in the Carpentry, Plumbing, and Welding programs, we designed (three) large window panels, seven coat sculptures, and a copper crown to share our interpretative story presented through our collective art-making process.
In order to submerge ourselves in the idea of new hope and freedom, we had the opportunity to speak to six immigrants, each with their own stories and backgrounds. This led us to learn what commonalities are present in each individual while also discovering what makes everyone different. It was clear to us that the art we make should represent immigration as a feeling, not just a story.
Learn more about our project and our collaboration at: https://sites.google.com/mcvts.org/ellis-island-exhibit/about-us
Last updated: October 4, 2019