Special Exhibits
STATUE OF LIBERTY NATIONAL MONUMENT AND ELLIS ISLAND
EXHIBITION SCHEDULE
ELLIS ISLAND NATIONAL MUSEUM OF IMMIGRATION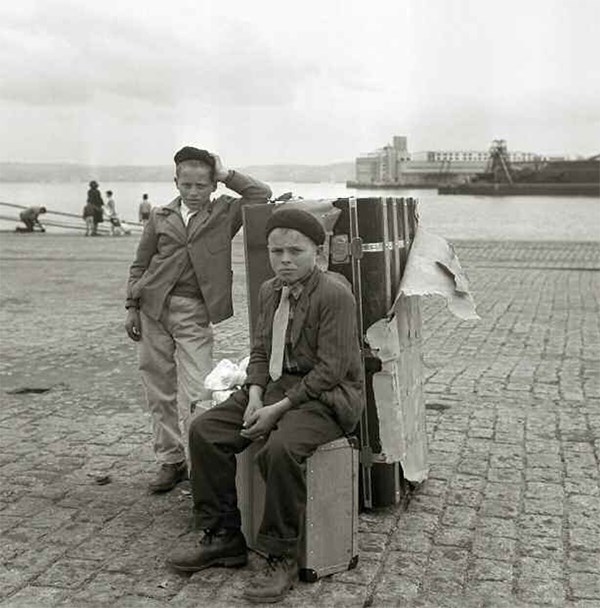 The Third Floor Changing Exhibit Gallery- 3 East -

Farewells - Photographs of Alberto Marti
February 9, 2019 -- May 5, 2019
Council for Galician Culture (Government of Galicia, Spain)

This exhibition is comprised of approximately 51 photographs documenting the Galician (Spain) exodus to America between 1957 and 1963 from the ports of A Coruña and Vigo. During this period, Galician emigrants accounted for 45% of all Spaniards who left for North and South America. The photographs were taken by photographer Alberto Marti who captured many of the details surrounding the experience of emigration in those years: from the arrival in the port, the crowded passenger terminal, and the world of paperwork and civil servants, to the wait for departure, getting comfortable on board, and the multitudes milling at the docks waving hands and handkerchiefs in the air.

Three of the exhibit images of Galician migrants.
The Third Floor Bob Hope Memorial Library Corridor Gallery - 3 West -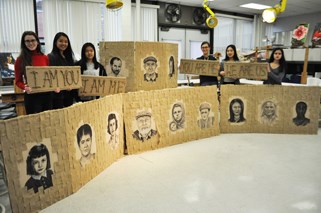 _"I AM ME… I AM YOU… YOU ARE ME… WE ARE US" …each of us brings a thread of ourselves, our culture and our homeland to form the fabric of our new home…_
This four panel installation was designed and created by National Art Honor Society students from Bergen County Academies
https://bcts.bergen.org/index.php/2016-05-10-17-30-50/bcts-campuses (a National Park Service Partner) in Hackensack under the tutelage of their teacher, JoAnn Onnembo, in honor of the National Parks 100th Birthday Celebration. The yearlong project included historical, anthropological and cultural research with the conceptual design idea that "we, as diverse individuals, become an integral part of a new fabric we call home." Based on their research, students created charcoal portraits of what they imagined people of various cultural backgrounds may have looked like during times of the great migration and passage through Ellis Island. Images were developed, grouped, assembled, and placed within a newly woven "quilt." The brief title statements recognize and respect individualities, unify and support the concept, and validate our contribution as part of the whole… a fabric that becomes stronger and more vibrant because we unite as one.
Last updated: February 12, 2019