Special Exhibits
STATUE OF LIBERTY NATIONAL MONUMENT AND ELLIS ISLAND
EXHIBITION SCHEDULE
ELLIS ISLAND NATIONAL MUSEUM OF IMMIGRATION
The Third Floor Changing Exhibit Gallery- 3 East -

What We Carried: Fragments & Memories from Iraq & Syria
May 25, 2019 -- September 2, 2019
Arab American National Museum (in collaboration with photographer Jim Lommasson)

In recent years, millions of Iraqi and Syrian families were driven from their homes due to war, conflict, and destruction. The images in this exhibition are of the personal objects carried by these fortunate immigrants and refugees who have made a new home for themselves here. Photographer Jim Lommasson traveled the United States documenting these objects. Their owners wrote directly on the images to explain why they chose these items, above all others, to remind them of the lives they left behind. The combination of carried objects and intensely personal stories illustrates the common threads that bind all of humanity: the love shared for family, friends, and the places people call home.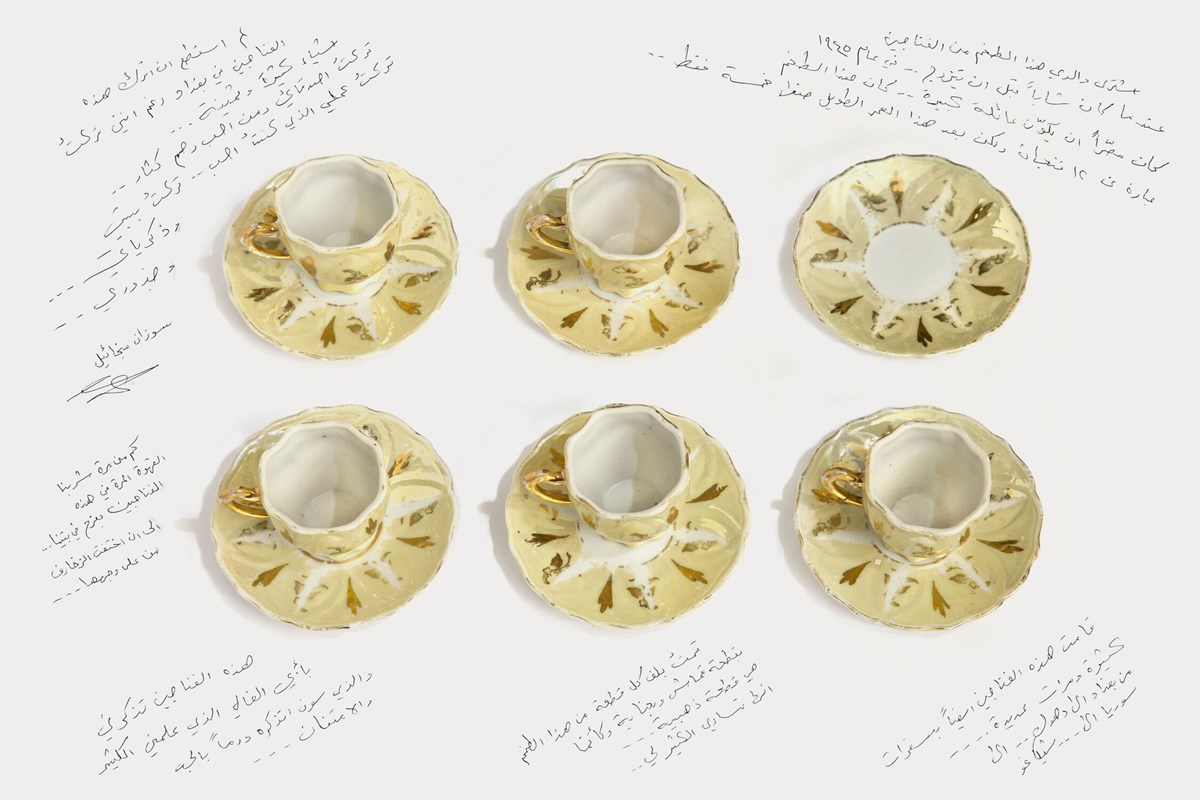 My father bought this set of coffee cups when he was a young adult, before he was married… in 1945. He was insistent that it would be a big family. This was a set of 12 cups, but after this long time, only 5 cups are left… This set has also travelled multiple times, from Baghdad to Dohuk, to Syria, to Chicago… I have wrapped every piece of this set with fabric and with care as if it was a piece of gold… it is worth a lot to me… These coffee cups remind me of my precious father who taught me so much, and who I will always remember with love and gratitude… How many times have we happily drunk bitter coffee from these cups in our house… until the decorations disappeared from its surface… I couldn't leave these cups in Baghdad despite having left so many valuable things… I left my friends and those that I have loved, and they were many…I left the job that I loved… I left my home and my memories… and my roots… –
Susan Barwary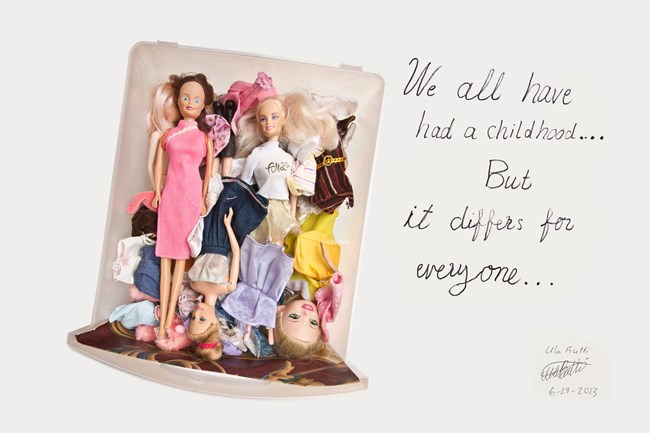 "We all have had a childhood….But it differs for everyone…" –
Ula Butti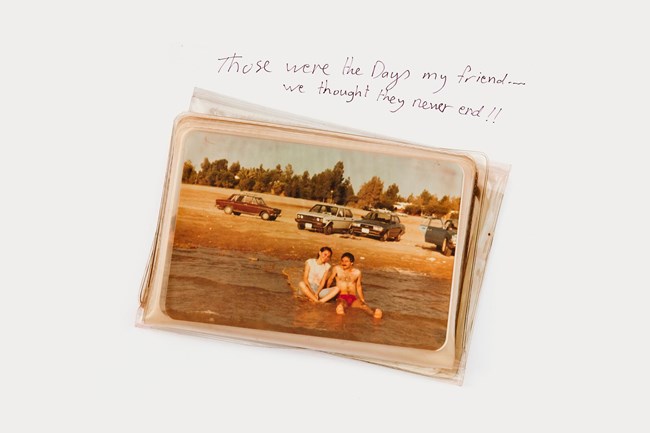 "Those were the days my friend . . . . we thought they never end!! –
Dr. Baher Butti
The Arab American National Museum (AANM) is the first and only museum in the United States devoted to Arab American history and culture. AANM's mission is to document, preserve and present the history, culture and contributions of Arab Americans.
Learn more about the museum and this exhibit at
http://arabamericanmuseum.org/wwc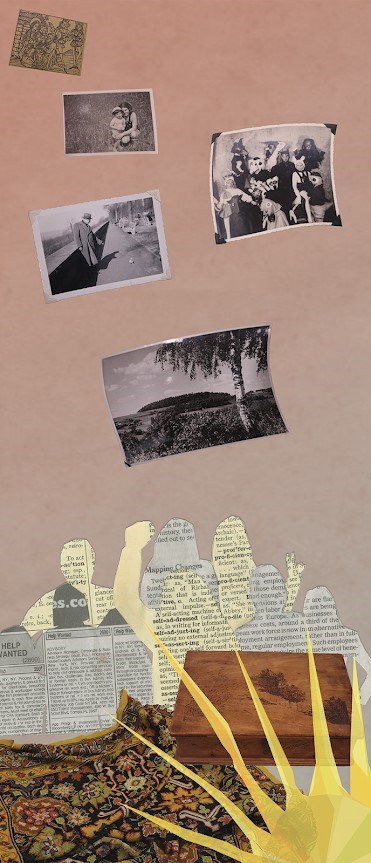 The First Floor Changing Exhibit Gallery- Railroad Ticket Office -
Looking Ahead: How the Voices of Hope Shape Our Understanding of the Country We All Share
April 20, 2019 – September 20, 2019
Academy of Design at the Morris County School of Technology in Denville, New Jersey.
This exhibition was designed by the juniors in the Academy of Design at the Morris County School of Technology (MCST) in Denville, New Jersey. We crafted our Looking Ahead exhibit around the stories of immigrants of the past and present in order to show the impact the United States has had on countless lives.
The panels share the story of cultural heritage, the promise and opportunities of America and the strength and resilience that represents the ability to leave one's home and start a new life. The coats represent the humanity of the immigrant experience. Seven figures, like the seven points of Lady Liberty's crown, are on a journey towards freedom from oppression, from strife and for the chance at a better life. The crown represents the liberty sought by all in the new country.
As a class, with the assistance of our fellow design academy classmates, and our talented friends in the Carpentry, Plumbing, and Welding programs, we designed (three) large window panels, seven coat sculptures, and a copper crown to share our interpretative story presented through our collective art-making process.
In order to submerge ourselves in the idea of new hope and freedom, we had the opportunity to speak to six immigrants, each with their own stories and backgrounds. This led us to learn what commonalities are present in each individual while also discovering what makes everyone different. It was clear to us that the art we make should represent immigration as a feeling, not just a story.
Learn more about our project and our collaboration at: https://sites.google.com/mcvts.org/ellis-island-exhibit/about-us
The Third Floor Bob Hope Memorial Library Corridor Gallery - 3 West -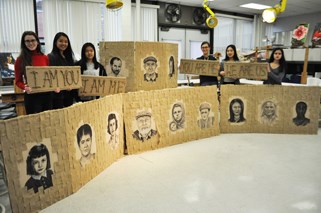 _"I AM ME… I AM YOU… YOU ARE ME… WE ARE US" …each of us brings a thread of ourselves, our culture and our homeland to form the fabric of our new home…_
This four panel installation was designed and created by National Art Honor Society students from Bergen County Academies
https://bcts.bergen.org/index.php/2016-05-10-17-30-50/bcts-campuses (a National Park Service Partner) in Hackensack under the tutelage of their teacher, JoAnn Onnembo, in honor of the National Parks 100th Birthday Celebration. The yearlong project included historical, anthropological and cultural research with the conceptual design idea that "we, as diverse individuals, become an integral part of a new fabric we call home." Based on their research, students created charcoal portraits of what they imagined people of various cultural backgrounds may have looked like during times of the great migration and passage through Ellis Island. Images were developed, grouped, assembled, and placed within a newly woven "quilt." The brief title statements recognize and respect individualities, unify and support the concept, and validate our contribution as part of the whole… a fabric that becomes stronger and more vibrant because we unite as one.
Last updated: May 24, 2019