Special Exhibits
STATUE OF LIBERTY NATIONAL MONUMENT AND ELLIS ISLAND
EXHIBITION SCHEDULE
ELLIS ISLAND NATIONAL MUSUEM OF IMMIGRATION

The Third Floor Changing Exhibit Gallery- 3 East -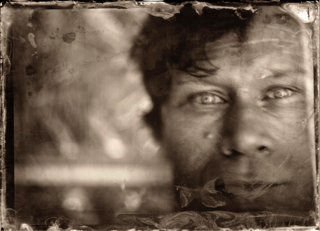 The New Americans: Photographs by Jill Enfield
This exhibition consists of wet collodion photographic prints of contemporary immigrants by artist Jill Enfield. A daughter of German immigrants, Miami native and long-time New Yorker, Enfield is keenly aware of the contribution that immigrants make to our daily lives. Fifteen years ago, she began to use the wet collodion process (an early photographic technique popular during the Civil War) to make portraits of New Americans she meets through work, friendship, or chance.
As a first generation American, the daughter of a Nazi Escapee, Jill passionately identifies with the courage and vision required to leave one's ancestral home and forge a new life in what may not necessarily be a friendly hosting country. Her collection of 30 wet plate collodion portraits of individuals, who arrived in the U.S. during the 1960s or after, reflect a tribute to the new immigrants, not only for their bravery and enduring inner strength, but also for the significant contributions they have made toward the enrichment of the American Culture in areas of cuisine, fashion, art, literature, and more.
Along with 30 of Enfield's favorite images, the exhibition includes short videos of Enfield at work, cases that exhibit her camera, her portable darkroom, ambrotypes (glass plates), and a detailed explanation of her photographic process. There is also a small glass house of immigrant portraits made from antique windows that Ellis Island visitors can enter.
The Exhibit will be open May 27 -- September 4, 2017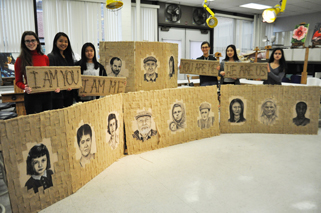 The Third Floor Bob Hope Memorial Library Corridor Gallery - 3 West -
Current Exhibit
"I AM ME… I AM YOU… YOU ARE ME… WE ARE US" …each of us brings a thread of ourselves, our culture and our homeland to form the fabric of our new home…
This four panel installation was designed and created by National Art Honor Society students from Bergen County Academies
https://bcts.bergen.org/index.php/2016-05-10-17-30-50/bcts-campuses
(a National Park Service Partner) in Hackensack under the tutelage of their teacher, JoAnn Onnembo, in honor of the National Parks 100
th
Birthday Celebration. The yearlong project included historical, anthropological and cultural research with the conceptual design idea that "we, as diverse individuals, become an integral part of a new fabric we call home." Based on their research, students created charcoal portraits of what they imagined people of various cultural backgrounds may have looked like during times of the great migration and passage through Ellis Island. Images were developed, grouped, assembled, and placed within a newly woven "quilt." The brief title statements recognize and respect individualities, unify and support the concept, and validate our contribution as part of the whole… a fabric that becomes stronger and more vibrant because we unite as one.
The Exhibit will be open May 24 -- September 4, 2017
Last updated: June 1, 2017