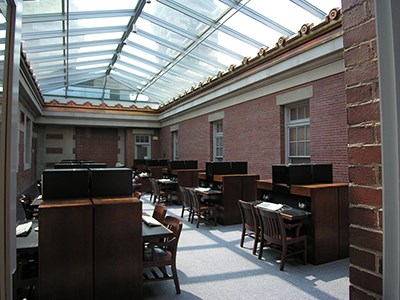 On May 2, 2008 President Bush signed a law naming the Ellis Island Library, the "Bob Hope Memorial Library," after one of the best known Americans to have passed through Ellis Island.
As Rep. Eliot Engel of New York stated in the House of Representatives:
Most Americans remember Bob Hope for his work in the entertainment business as a comedian, actor, dancer and singer, as well as his work with the American troops abroad. Perhaps his work with American troops abroad is the thing that he is most remembered for. But what few know is that Bob Hope was actually an immigrant from England, came here when he was very, very young. He is sometimes even referred to as America's most famous immigrant, whose life epitomizes the American Dream. Bob Hope embodies the American Dream . . .
This exhibit provides a brief glimpse at the life and career of Bob Hope, as well as the role that immigrants played in early twentieth century entertainment.
The Bob Hope Memorial Library is open to the public and contains materials on subjects
related to the Statue of Liberty, Ellis Island, immigration, ethnic groups and the National
Park Service. It includes books, unpublished manuscripts, periodicals, photographs, and
videos.
Some of the more distinctive collections include historic photographs of the Statue of
Liberty and Ellis Island, diaries and personal papers of Ellis Island staff from the early 20th
century, and an oral history collection including over 2,000 tape-recorded interviews with Ellis
Island immigrants and staff.