Bob Hope: An Immigrant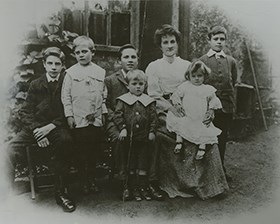 Leslie Townes (Bob) Hope emigrated to the United States with his mother and five of his brothers in 1908. They traveled via third class aboard the steamship Philadelphia and were processed at the immigration station on Ellis Island on March 30, 1908.
Bob Hope's father, William Henry Hope, a stone mason, had emigrated to the United States in 1907 to join his brothers Frank, a plumber, and Fred, a steamfitter, who were living in Cleveland, Ohio. He sent for his family the following year and they lived in Fred Hope's plumbing shop at East 105th St. in the Cleveland neighborhood called Doan's Corners.
"Though I was born in England, I left at the age of four...
Actually, the minute I started to talk, they deported me." Bob Hope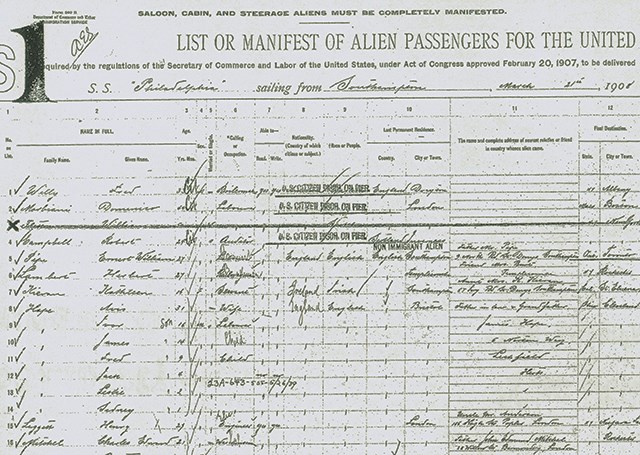 This is a copy of the ship's "manifest," or passenger list, containing the names of Bob Hope, his mother, and five of his brothers. On the manifest, Leslie (Bob) Hope is listed as being two years old. He was actually four when the family traveled to America. His age was probably mistakenly switched with that of one of his brothers when the family was recorded on the passenger list in England. As you can see from the entries on the manifest, Avis Hope was 31 when the family immigrated and her sons were 16,14, 9, 4, 2, and 1.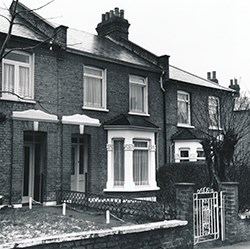 The Hope family emigrated to the United States at a time when many English emigrants were headed elsewhere. The bulk of English emigration to the United States occurred in the 17th, 18th, and 19th centuries. The first permanent settlers from England to America arrived in 1607. By the time of the American Revolution English immigrants and their descendants made up approximately one half of the population of the colonies and English language, laws and customs predominated in what was to become the United States. The greatest number of English immigrants to enter the United States began in the late 1840s and continued in several waves until the financial troubles of 1893. By the time Bob Hope and his family landed in the United States in 1908, English emigrants were more likely to move to Canada or another part of the English Commonwealth than to immigrate to the United States.
"We Moved to Cleveland. Here people lived on the right side of the tracks or the wrong side of the tracks. We lived under the tracks." Bob Hope
Bob Hope was born Leslie Townes Hope, the son of stonemason William Henry Hope and Avis Townes Hope. The family emigrated from England to Cleveland, Ohio in 1908, when Leslie, the fifth of seven children, was not yet five years old. In Cleveland the family struggled financially, as they had in England, and Avis took in boarders to supplement William's erratic income. Avis, an amateur musician, taught singing to Leslie, an outgoing boy who entertained his family with singing, Charlie Chaplin impersonations, and dancing.
Last updated: May 25, 2018