"Liberty Uncrated"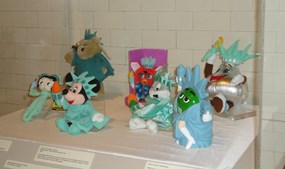 A new exhibit opened in the third floor gallery here at Ellis Island on March 9, 2012. "Liberty Uncrated" displays some of the hidden treasures from this park's museum collection. Most of the pieces in the exhibit have been preserved in museum storage, rather than on display in our exhibits - at least, until now!
This temporary exhibit explores many themes - including Liberty in popular culture, Liberty and advertising, a century of souvenirs and Liberty exploited in art. In the 125 years that the Statue of Liberty has stood in New York Harbor, her image has become part of the cultural fabric of the United States and, indeed, of the world.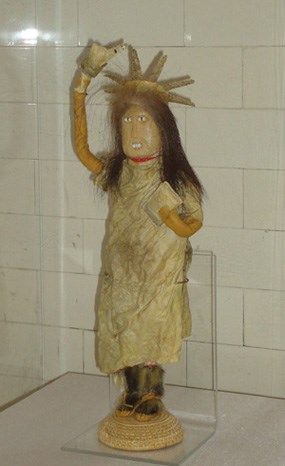 One of the more unusual items from the collection is this doll. It was made by artist Mary Carl, who lives in Alaska. She used fish skin for the toga, torch, tablet, and crown. The mukluks, or boots, were made from seal skin and hair.
Two items on display from our collection are especially exciting: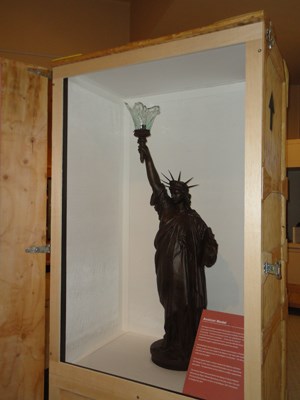 With (sculptor) Bartholdi's stamp of approval, Avoiron and Company, a Parisian foundry, produced a zinc model of the Statue of Liberty in four sizes. Royalties from the sales of these models contributed to the Statue's original construction in Paris. This 48-inch Avoiron model was owned by the Coca-Cola Company for many years and was presented to the Statue of Liberty National Monument for the Statue's 125th Anniversary on October 28, 2011 by Mayor Michael Bloomberg for the City of New York and Coca-Cola.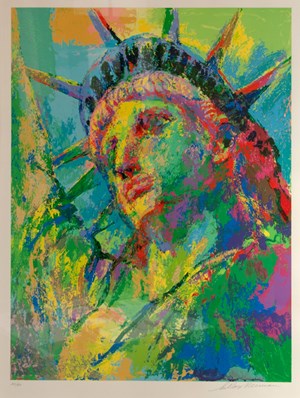 Best known for his brilliantly colored, stunningly energetic images of sporting events and leisure activities, LeRoy Neiman is one of the most popular living artists in the United States. In 2008, he personally gave this beautiful image of the Statue of Liberty to the park. When the Statue of Liberty monument opens towards the end of the year, this serigraph will be placed on permanent display in the Liberty Island Museum.
These works, and all the other items in "Liberty Uncrated", will be on display through Monday, May 28, 2012.
Last updated: April 12, 2012