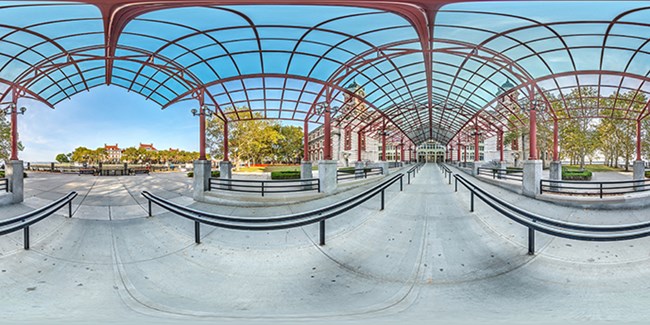 Virtual Tour Celebrates Two Anniversaries
In 2014, in anticipation of the Centennial of the National Park Service and the 50th Anniversary of the National Historic Preservation Act of 1966, the park staff began working with the NPS's Historic American Buildings Survey to develop a virtual tour of Ellis Island. The tour was completed and launched in late 2015. This virtual tour is primarily of the South Side of Ellis Island, the location of the historic hospital complex. These important structures are generally not available to the visitors. Explore this space virtually and see our buildings from a whole new point of view! Look behind the walls and windows of these historic structures to see how they were constructed and what the inside looks like today.
Take the Ellis Island Virtual Tour

This interactive virtual tour is a combination of high resolution spherical images, historical information, and historic images taken in the same areas decades ago, primarily of the South Side of Ellis Island. Also included are animated point cloud fly-throughs of Ellis Island as a whole. This virtual tour was created by the Heritage Documentation Programs.