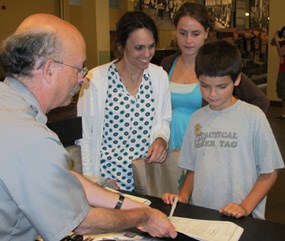 Have Fun Learning about Ellis Island and the National Park Service!
There are many ways to have fun at National Park Service sites. At Ellis Island, you can explore the museum and follow in the footsteps of immigrants from 100 years ago. You can see the skyscrapers of New York from the harbor. You can attend a ranger talk or take the audio tour. You can also become a Junior Ranger.
Learn more about the Ellis Kids children's exhibit and how to participate when you visit Ellis Island.
Guess What?
There are more than 21 National Park sites in the New York City area. Click to discover more. Many of these sites have Junior Ranger programs too!
Even if you can't visit a National Park Service site, you can still have fun learning about national parks by becoming a WebRanger! Visit www.nps.gov/webrangers to learn more, play games, and complete lots of activities while learning about national parks.
Have fun!!