Colonial and Early American New York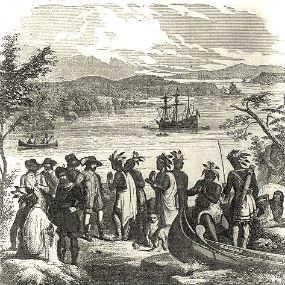 Henry Hudson arrived in what is now New York Bay in 1609. In 1624, the Dutch established a fur trading station on Governor's Island and in 1625 founded New Amsterdan in Lower Manhattan. In 1664, the English took possession of New Netherland from the Dutch, renaming it New York. Between 1674 and 1679, Ellis Island (still called one of the three "Oyster Islands" in New York Harbor) was granted to Captain William Dyre (the collector of customs and future mayor of New York) by the Colonial Governor of New York, Sir Edmund Andros. During Dyre's ownership, this Oyster Island was renamed Dyre's Island.
For the next one hundred years, the island went through a succession of owners and names. In 1774 the island was purchased by Samuel Ellis, a New York merchant. "That pleasant situated island,", as Ellis called it in an ad for its sale in 1785, was a favorite spot for those who wanted to dig for oysters or enjoy the view of New York's bustling harbor while visiting the tavern that he built there. Ellis failed to sell his island, which was inherited by his descendants after he passed away in 1794. In 1808, New York State bought the property, which by that time had several claimants, and then conveyed ownership to the United States government.
In the early 1800s, the young American government realized that Ellis Island, with its clear view of the entrance to New York Harbor, had strategic value as a defense post. Since the British had easily invaded New York with very little resistance during the American Revolution, the protection of New York became a top priority for the new government. Preceding the War of 1812, the United States War Department constructed Fort Gibson (named after Colonel James Gibson who was fatally wounded in the British Siege of Fort Erie) on Ellis Island. Fort Gibson consisted of a barracks for a small garrison, a powder magazine, and a battery of guns located along the island's eastern edge.
Other newly erected or refurbished forts along New York harbor included: Fort Hamilton in Bay Ridge, Brooklyn; Fort Wadsworth on Staten Island; Fort Wood on Liberty Island; Fort Clinton in Manhattan (now known as Castle Clinton), and Fort Columbus and Fort Williams on Governor's Island. Like its counterparts around New York Bay, Fort Gibson never saw action. During the war, the British blockaded the harbor, but never directly attacked the city.
Last updated: February 26, 2015