Interpreter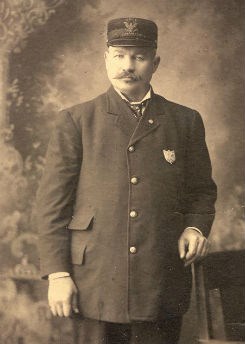 Interpreters translated for immigrants who could not communicate in English. Interpreters not only needed strong linguistic skills in one or more foreign languages, but they also needed to understand the most common dialects in a given language. An interpreter needed to convey the equivalent (or a close equivalent) of the words and meanings expressed by an alien immigrant and a United States Immigrant Inspector or other Ellis Island worker. Many interpreters at Ellis Island were either immigrants themselves or the children of immigrants.
To work for the Bureau of Immigration, applicants for interpreter positions had to take a federal civil service examination that rated their speaking, reading, writing and comprehension for each language. The common languages spoken at Ellis Island included: Italian, Polish, Ukrainian, Slovak, German, Yiddish, French, Greek, Hungarian, Russian, Ukrainian, Serbo-Croatian, Romanian, Swedish, Portuguese, Bulgarian, Czech, Spanish, Armenian, Arabic, Dutch, Norwegian and Chinese.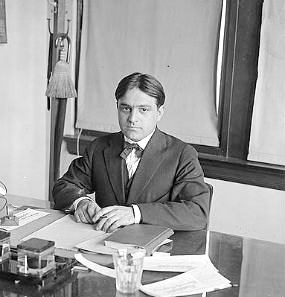 Fiorello H. LaGuardia (1882-1947)
Italian, German, Yiddish and Croatian Interpreter
Fiorello LaGuardia was the son of an Italian father and a Jewish mother from Austria-Hungary. After working as a clerk at the American consulate in Budapest (1903) and a consular agent for emigration at the Port of Fiume [now Rijeka, Croatia] (1903-1906), he returned to New York to study law at night school. During the day, he worked as an interpreter at Ellis Island. From 1907 to 1910, he worked at Ellis Island as an interpreter certified for Italian, German, Yiddish and Croatian.
In February 1910, Ellis Island's Commissioner William Williams wrote:
Mr. LaGuardia is energetic, intelligent and familiar with a number of foreign languages. Against him there may be said that he is inclined to be peppery; that with some of the Board [of Special Inquiry] Members, he is inclined to the argumentative, but . . . it is not a defect of the first order. . . . I think that his abilities place him in the higher grade of interpreters, . . . . I, therefore, suggest his regular promotion to the $1,380 grade.
After leaving Ellis Island, La Guardia became a lawyer and eventually entered politics as a progressive Republican. He served as a United States Congressman from 1917 to 1919 and again from 1923 to 1933. He also was a popular three term mayor of New York City from 1934 through 1946. He reminisced about his experiences on Ellis Island in his 1948 autobiography,
The Making of an Insurgent
. He died in the Bronx in 1947 at the age of 64.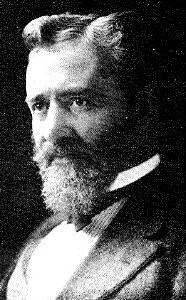 Antonio Frabasilis (1854-1927)
Greek Interpreter
Antonio Frabasilis, a native of Italy, studied classical Greek and Latin at the Universities of Naples and Athens and became a respected Greek scholar. He also studied numerous modern languages, including Turkish, Russian, Armenian, Arabic, Spanish, French, and English, among others.
In 1899, Frabasilis emigrated to the United States where he hoped to expand his knowledge of languages and their dialects. After becoming a naturalized citizen in 1906, he was appointed as an interpreter of Greek at Ellis Island in 1908.
Frabasilis' linguistic genius helped him handle many difficult cases. One of his greatest triumphs was the translation of a letter intentionally designed to deceive the police by combining different languages. After having been in police hands for 22 months, during which time the police had sought the help of several university and college professors, the letter was sent to Ellis Island. It was given to Antonio Frabasilis who deciphered it in ninety minutes. The letter had been written in an odd mixture of Armenian, Turkish, Polish and three dialects of Russian. Frabasilis's translation enabled authorities to arrest importers who were violating U.S. customs laws.
Last updated: August 19, 2015