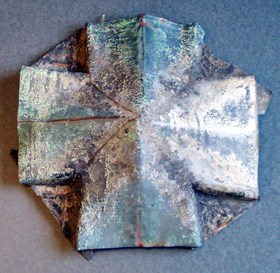 The history and use of Ellis Island as an immigration station and hospital from 1892 to 1954
The architectural history of the construction of the Ellis Island immigration station is extensively represented in the museum archives and library collections which house numerous reports, monographs and documents containing the original design and construction of the buildings, hospitals and support structures, and all the subsequent modifications and restorations on the buildings to the present. Documentation on the rehabilitation of all the buildings and fund raising efforts by the two NPS partners, Statue of Liberty-Ellis Island Foundation and Save Ellis Island are included in the museum archives and library.
During rehabilitation of the architectural structures on Ellis Island, actual building components, such as the decorative copper flashing and drainage downspout, that are unique to the site or a time period are collected when the features have both interpretive, exhibit value and use as the template for future restoration or reconstruction of buildings.