Collection Research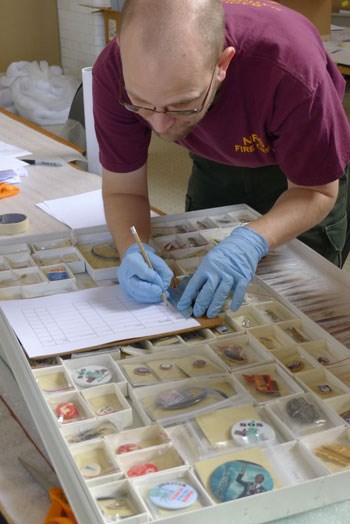 Although at present less than one percent of the museum collection is on exhibit at both islands, the Park's collection serves as a primary source of information for research on the history of the Statue of Liberty and immigration in the United States. The supportive function of the museum collection is therefore crucial to fulfilling the park's mission goals to preserve and interpret the histories of the Statue of Liberty and Ellis Island.
The Statue of Liberty National Monument and Ellis Island Immigration Museum collections consist of approximately 390,000 individual items systematically recorded and accessible through over 48,000 computerized records and over 1 million archival records. The collection is organized into the categories of history, archaeology, and natural history.
The History collection includes objects and archival materials that document the development and use of Liberty and Ellis Islands, from the 19th through the 21st century, in their various roles as military sites, immigration station and hospital, national monuments and American symbols, and present-day tourist attractions. Objects in the collection include the personal belongings of immigrants, staff, and visitors; memorabilia; fine art; documents and photographs; and architectural elements removed during the restoration of the Statue of Liberty and the Ellis Island historic buildings.
The Archaeological collection contains items found in situ within the park and date back to the Early/Middle Woodland period (783 CE –1156 CE), providing insight into Native American habituation in the region. These items were collected both through systematic excavations and inadvertent discovery during the process of preservation work on Liberty and Ellis Islands.
The Natural History collection, which is small but significant, is comprised of mounted plant specimens collected from both Liberty and Ellis Islands.
Research Access Procedure:
Research access to the museum collection not on exhibit is by appointment only. A written request clearly describing the reason for the research and the credentials of the researcher is required. All written requests must be submitted at least one week in advance of the desired appointment date.
Please send all collections related research requests to the Curator of Collections by email or by mail to Statue of Liberty National Monument, Liberty Island, New York, NY 10004, ATTN: Curator of Collections.
Last updated: January 27, 2022