Island of Hope, Island of Tears Documentary Film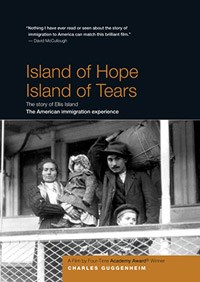 Students of all ages can watch "Island of Hope, Island of Tears." This award-winning documentary film reveals how and why millions of immigrants journeyed across the world to Ellis Island, hoping for a better life for themselves and their descendants. This free program includes a 5-minute ranger talk followed by the 30-minute documentary. Seats are on a first-come first-served basis to all visitors, and showtimes start every half hour with a maximum limit of 140 people per showing.
While this program does not have a formal Teacher's Guide, the following questions can help students begin to think about immigration a century ago. Please note that the theater is completely dark when the film is playing; we do not recommend that students be expected to physically answer questions on a worksheet during the film.
What conditions would make you want to leave your home forever?
If you had to carry everything you were bringing along, what would you pack?
What kinds of tests would you have to pass to be able to enter the United States as an immigrant?
If you didn't speak English, how would you get to your final destination?
Where would you go in the United States? Why?
What would you do for work in the United States? Why?
The copies film are available for purchase in the Ellis Island National Museum of Immigrations bookstore on the first floor of the museum.
Last updated: January 18, 2018