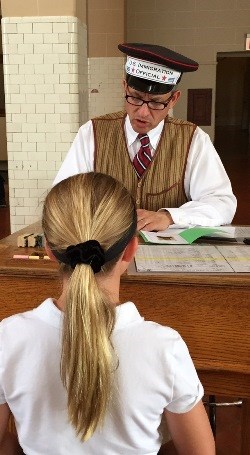 In celebration of the 2016 National Park Service Centennial, the Statue of Liberty National Monument and Ellis Island is teaming up with the National Park Foundation and park concessioners Statue Cruises and Evelyn Hill, Inc. to provide a free and immersive educational experience to qualifying fourth-grade classes.
Join us as we celebrate the Every Kid in a Park initiative!
We welcome 4th Grade classes to participate in The Journey, Ellis Island's newest immersion activity. Find out more information on how to sign up for this FREE program below:
Programs will be run on Tuesday, Wednesday and Thursday, between March 1st and May 15th on a first-come, first-served basis. Please note that space is limited and program is based on availability.
Requirements:
Be a 4th Grade Teacher of a Title I school in the New York/New Jersey area (proof of Title I documentation is required).

Teachers will be asked to fill out an evaluation of the program after its completion.
How it Works:
Teachers MUST contact Peter Wong, the Supervisory Park Ranger - Education at (646) 356-2180 to review the education components of the program and provide Title I documentation.

Call the Statue Cruises Call Center at (877) 523-9849 Option #4 to reserve free ferry tickets.

Free Lunch vouchers will be included for students after the program.

Bus Transportation to ferry terminals at Liberty State Park or Battery Park must be arranged by the school and at the school's expense.
Don't miss out on this exciting opportunity for your students to recreate the immigrant experience at Ellis Island!