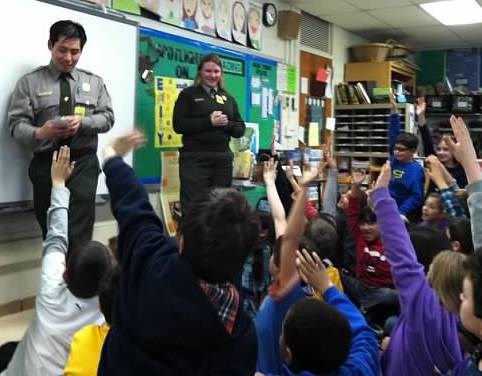 Ranger in Your Classroom
The Statue of Liberty National Monument and Ellis Island Immigration Museum are excited to announce FREE "Ranger in Your Classroom" curriculum-based programs to be delivered in the New York City area schools.
Park ranger teams will offer a series of presentations to individual classrooms. Each program runs approximately 45 minutes or one class period. Schedule these teams for a day in your school to ensure all your students within a grade get this great opportunity to interact with park rangers on the history and importance of these two national park sites! In order to schedule rangers at your school, we need a minimum of 3 classes (a half day) or up to a maximum of 5 classes (a full day) to book the same program during one school day. Reservations must be made at least a week in advance, and will be filled on a first-come first-serve basis.
Email us or call (646) 356-2180 with questions.