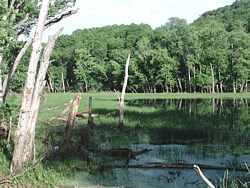 The backwaters of the Mississippi River consist of sloughs, lakes, ponds and adjacent wetlands. The backwaters are home of many interesting plants and animals.
The Yellow River wetlands, within Effigy Mounds National Monument, are made up of the slow moving river, and the adjacent floodplain, several small shallow ponds and a tributary stream, Dousman Creek. The wetlands contain habitat for many resident and migratory birds. In spring and fall, wood ducks, mallards, Canada geese and other waterfowl can be found feeding and resting in the quiet waters of Founder's Pond. From the Founder's Pond overlook, visitors can often see bald eagles and an occasional osprey during migration.
Many types of amphibians utilize the wetlands as well. Spring peepers, western chorus frogs, green frogs, leopard frogs, pickerel frogs and bullfrogs and American toads can be found here. In early spring the chorus of frogs rises from the ponds and continues through early summer as various species begin their ancient courtship ritual. In summer, the trill of the common gray tree frog can be heard from the trees and shrubs near the water.
There are also animals such as the beaver, muskrat, river otter and mink found in the quiet sloughs and at rivers' edges.