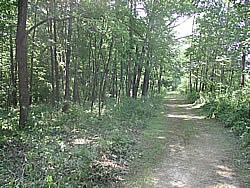 The diversity of trees and shrubs found in the oak-hickory forest provide cover, food and shelter for many of the woodland residents. Oak trees and shagbark hickory, as well as white ash grow along south facing slopes. On cooler north facing slopes, sugar maple dominate. The hackberry, found here and in the river floodplain, produces a fruit highly sought after by many birds. Kentucky coffee tree and honey locust live in the transition zone and in the floodplain. Also a variety of shrubs can be found in the uplands including hazelnut, gray dogwood, prickly ash, and near the forests' edges sumac can be found.
The wooded hills consist of a mix of hardwoods such as red oak, maple, hickory, basswood with the white oak growing on ridge tops in drier sites.
The white oak was heavily utilized by farmers and landowners to construct barns, houses, wagons, and even boats. The acorns provide food for deer, turkeys, squirrels, mice, and woodpeckers. Long ago, early American Indians used the acorns to make a rich flour. Red oak trees grow on slopes with moist soil and can reach impressive sizes. Black oaks grow along the bluff edge while chinquapin oak can be found among the limestone outcroppings. Interspersed through out the area are a variety of species including ironwood, blue beech, and eastern red cedar.
The Sny Magill Unit is a river floodplain that is inundated yearly by spring floods. The vegetation is dominated by silver maple, elm, and green ash. Swamp white oak is well represented in this area.