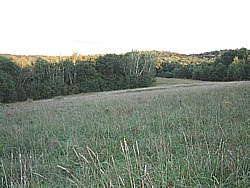 Effigy Mounds National Monument encompasses the ends of two substantial ridge systems that are adjacent to the Yellow River Valley. Early maps showed that these areas were open with little woody vegetation occurring. One map (1893) shows in detail the old field areas with widely scattered stumps reflecting possible clearing of savannas.
The agriculture of the early 1900s consisted of low intensity, prechemical farming practices that eliminated some but not all of the native species that were native to the area. Then in the mid 1900s farming intensity increased with the use of tractors and row crop agriculture practices. Much of the native grasses and many of the native forbs in those areas were lost.
In the 1980's, vegetation surveys showed many prairie species in small openings along the bluffs. Controlled burns in the monument began in the spring in the late 1980's. Today, the prairies are burned periodically and provide excellent habitat for many insects, small mammals, birds and reptiles. A rotational burning cycle has been implemented to provide habitat for wildlife while maintaining the diversity and composition of the prairie landscapes.
Big bluestem, Indian grass, switchgrass and little bluestem make up the predominate grass species of the tall grass prairie in the monument. Butterfly weed, compass plant, blazing star, and purple and yellow coneflower add color to the open grasslands. The prairies reach their height in late summer when the grasses mature and blazing star, goldenrods and asters begin to bloom.