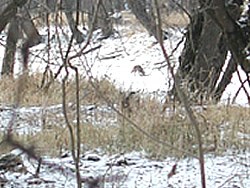 The floodplain and upland forests found here at Effigy Mounds provide food and habitat for larger mammals such as whitetail deer, gray and red fox, and coyote. Bobcats can also be found here, although sightings of this shy animal are very rare. The wetlands adjacent to the Mississippi and Yellow Rivers are the preferred habitat for smaller mammals such as beaver, muskrat, and river otter. Raccoon are also known to inhabit these quiet backwater shorelines as well.
Wolves, bears and mountain lions do not reside in the monument; however, young black bears have been known to travel great distances from populations to the north and may occasionally spend some time in this area before moving along.
Up until the mid-1800's northeast Iowa supported elk. Following European settlement, the elk disappeared from the region. Likewise, the timber wolf populations disappeared by the 1930's.